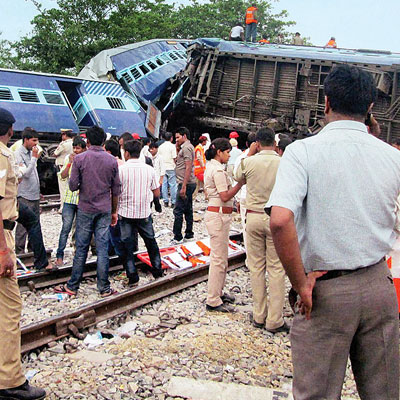 Eleven people died and over 100 were left injured when a passenger train rammed into a goods train in Uttar Pradesh on Monday.
Officials said that a "signal error" caused the Delhi-Gorakhpur Gorakhdham Express to ram into a stationary goods train on the same track at Churaib station between Basti and Gorakhpur in Sant Kabir Nagar district in east UP at around 10am. Sant Kabir Nagar is about 242 km from Lucknow and over 700 km from Delhi.
Three general coaches of the Gorakhdham Express were crushed while six others were derailed. Railway Board officials, however, said the mishap occurred due to derailment of the express train.
"After the derailment, six coaches of the train rammed into a stationary goods train standing on the adjoining track at the station," a Board official said. Four of these were general coaches while two were AC coaches — AC first and AC two tier – he added.
District administration officials said 30 people had died in the accident. Railway officials did not confirm the number of dead and injured till late evening.
"There are a lot of people inside the coaches who need to be rescued," Alok Kumar Singh, Chief PRO, North Eastern Railway (NER), told reporters.
Railway Board Chairman Arunendra Kumar said an inquiry has been ordered into the mishap by Commissioner, Railway Safety (north-east circle) PK Bajpayee. A compensation of Rs 1 lakh to families of each of those killed and Rs 50,000 for the seriously injured has been declared. A sum of Rs 10,000 will be given to those with minor injuries.
Meanwhile, Prime Minister Narendra Modi offered his condolences to the families of those who lost their lives in the train tragedy. Modi also spoke to cabinet secretary Ajit Seth and asked him to monitor the situation to ensure timely relief to the injured.
Congress president Sonia Gandhi too expressed grief at the loss of lives in the accident.
Sant Kabir Nagar District Magistrate Bharat Lal said paramilitary forces personnel were aiding in the rescue operations.
Rail traffic between Delhi and Gorakhpur was affected and a number of trains diverted, railway officials said.