Modi government keeps open mind to set agenda for Indo-US relations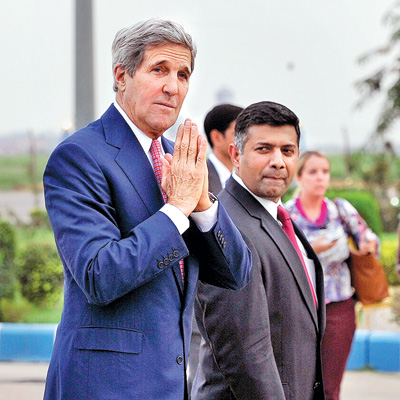 The Modi government is looking at the two-day India-US strategic dialogue starting here on Wednesday between external affairs minister Sushma Swaraj and US secretary of state John Kerry in a superlatively positive sense. Ministry of external affairs spokesperson Syed Akbaruddin said the scheduled meetings between Swaraj and Kerry are "expected to explore new frontiers", "enhance convergences between the two countries" and also "explore transformative initiatives". Those are hyperbolic phrases by diplomatic standards, and it shows that the Modi government is keeping its mind open with regard to the US, without carrying any baggage with regard to the US stance towards Modi when he was chief minister of Gujarat, and the denial of visa to him post-2002 Gujarat riots.
Why is Kerry here?
Kerry is in India to start a new chapter in Indo-US relations which have nosedived in the past few years following the high of Manmohan Singh-George Bush years and the signing of the Indian-US civil nuclear deal. It is not all hunky-dory between the two countries considering the differences between the two nations on issues like India's nuclear liability bill, US' spying programme, Indian diplomat Devyani Khobragade's episode among others.
Kerry's visit to India is also seen as a preparation for PM Narendra Modi's visit to the US where he will attend the UN General Assembly session followed by a trip to Washington DC at the invitation of US President Barack Obama. India's ministry of external affairs also said during the visit they would try to explore "transformative initiatives that can move India-US relations to next level".
What is strategic dialogue?
A strategic dialogue is high-level political interaction. India and the United States launched ministerial-level strategic dialogue in July 2009, focusing on five areas of mutual interest which are energy and climate change, education and development, economy, trade and agriculture, science and technology, health and innovation. The first Strategic Dialogue was held in Washington DC in June 2010, followed by successive rounds.
ALSO READ: Narendra Modi's 'Sabka Saath Sabka Vikas' is great vision: John Kerry
The developmental plan of Prime Minister Narendra Modi reflected in his poll slogan of "Sabka Saath, Sabka Vikas" is a great vision, US Secretary of State John Kerry said today on the eve of his departure to India. Kerry will be in New Delhi to co-chair the fifth annual India–US Strategic Dialogue with his Indian counterpart Sushma Swaraj. Read more
What is main agenda of the strategic dialogue?
Indo-US strategic dialogue, as explained by MEA, is "expected to explore new frontiers", "enhance convergence between the two countries" and also "explore transformative initiatives" to take the India-US relations to next level which is at present in a stage of stable and mature growth. It is also going to be an important meeting as it would be first high level dialogue between US and India's new government since it came to power in May 2014.
Focus area during strategic dialogue would be cyber security, energy, trade and investment, science and technology, human resource development, regional and international issues among others.
ALSO READ: John Kerry presses India on WTO deal ahead of arrival
Who will Kerry meet during his visit?
After landing in Delhi on Wednesday evening, Kerry's first meeting will be with India's National Security Advisor Ajit Doval on Thursday morning followed by meetings with finance and defence minister Arun Jaitley and in the afternoon with external affairs minister Sushma Swaraj for delegation-level talks. Kerry is scheduled to meet PM Modi before departing on Friday at 11am.
What are the key issues for India?
India has several issues on table. Among them major issues are security, including cyber security and homeland security, enhancing co-operation in trade and investment, science and technology, human resource development, regional and international issues among others. Issue of US agencies snooping on India is also expected to feature in the talks.
India has also set United Nation's 70th general assembly, scheduled next year, as target for reforms in UN's Security Council. MEA said that in order to achieve the desired result next year work has to start now. Though US has backed India for permanent position in the security council, its active involvement would be important for India.
Are the two sides expected to discuss India-US nuclear deal?
Nuclear deal has been an issue which has been both a matter of happiness and sorrow in India-US relations. While India-US relations hit a high when former PM Manmohan Singh and US President George Bush signed the historic nuclear deal, the relations hit a low due to several hiccups in its implementation especially in context of US companies not getting any business due to their objections to India's strong nuclear liability law.
Thus issue of resolving difference over India's nuclear liability law is definitely going to be part of talks.
How important is this strategic dialogue?
"This meeting would serve as an opportunity for US to gauge mood of NDA government before PM Narendra Modi meets President Barack Obama in US. India's neighbours – China and Pakistan – would also be keenly watching signals from this meeting and subsequently meeting of Modi and Obama. China has already taken lead by inviting India to Asia-Pacific Economic Cooperation (APEC) and it seems they want to build good relations with the new dispensation at New Delhi. China, especially, would be keenly watching India-US meetings," Sanjeev Shrivastav, expert at Institute for Defence Studies and Analyses, told dna.