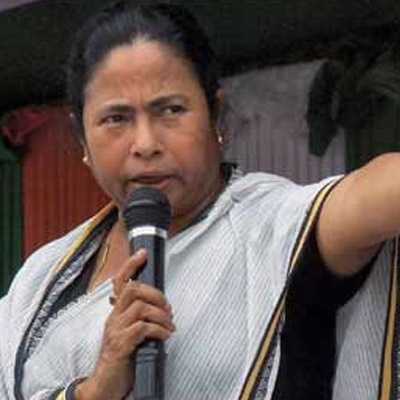 West Bengal Chief Minister Mamata Banerjee will meet Prime Minister Dr. Manmohan Singh here on Tuesday evening to discuss the financial situation of West Bengal and seek central funds for her state.
Banerjee on Monday stated that West Bengal is the top performing state in the country, and said that she would lodge a protest against the economic blockade by the Centre during her meeting with the Prime Minister.
"I am not going to meet Dr. Manmohan Singh, but I am going to meet his chairs," said Banerjee, while expressing her annoyance with the ruling Congress Party at the Centre.
Banerjee said that West Bengal is not demanding any special package, but only its rightful share.
"We are not begging. We are not demanding any special package. We are demanding our rightful share. As far as performance is concerned, we are number one in the country," Banerjee told mediapersons in Kolkata.
"I am going to Delhi to seek justice. We want to know why West Bengal is deprived. We will also protest against the economic blockade by the Centre. My visit to Delhi is not for a political meeting; it is entirely to discuss the development, achievements and state's financial situation," she added.
Banerjee further said that she would be meeting Finance Minister P Chidambaram on Wednesday and bring to his notice the achievements of West Bengal during the Trinamool Congress rule.
"It is almost two years (of TMC government coming to power). How long should we wait for central funds I will ask the finance minister.
She also reiterated that the Centre was taking away Rs 25,000 crore in interest on loans besides Rs40,000 crore in central taxes.