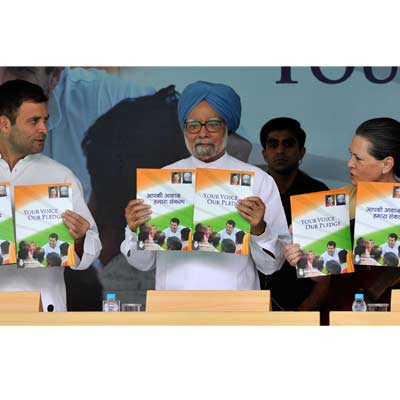 The UPA-II government had spent nearly Rs 187 crore to publicise its flagship schemes under the 'Bharat Nirman' programme in the election year 2013-14. The campaign which started quite late after BJP's 'Mission 272+' gained prominence was meant to spread information about UPA's policies and counter BJP's policies.
According to an RTI response by the directorate of advertising and visual publicity, the Manmohan Singh-led government spent Rs186.98 crore in 2013-14 alone.
Giving details of Bharat Nirman campaign of UPA-2, DAVP gave the following numbers:
But, the details of NDA government's spending on 'India Shining' campaign were not available, according to the nodal agency of government spending on advertisements.
The DAVP said it does not have records pertaining to expenses incurred on 'India Shining' campaign run in the election year in 2003-04 during the NDA government led by Atal Bihari Vajpayee.
"Our campaign wing has intimated that records pertaining to the campaigns - India Shining and Mera Bharat Mahan - are no longer available with it. Computerisation of records was done from 2007 onwards," the Central Public Information Officer of DAVP said in a statement.
"If the campaign was running in a mixed manner with other campaigns, then unless Release Order details are made available to Accounts Wing, it may not be in a position to provide information. The work, however, could be voluminous one because at that time records in Accounts Wing also were being maintained manually," the response stated.
The reply provided to RTI activist Subhash Agrawal said in view of the reasons cited, the Accounts Wing is not in a position to make available details in respect of expenditure incurred on the 'India Shining' campaign since it is not known to it if the campaign was an exclusive one and fund was exclusively earmarked for this campaign.
Sonia Gandhi also once had publicly spoken against photo-publicity in government-advertisements and after taking charge, Manmohan Singh had expressed his desire that photos should not to be published in government-advertisements.
The then Delhi Lokayukta Justice Manmohan Sarin pulled up the then Delhi Chief Minister Shiela Dixit and her minister for getting their photos printed on application-forms for ration-cards. Conflicts between Union and state governments on photos of Prime Minister or Chief Minister painted on schemes launched by Union government but implemented by state governments came to light in case of photos to be painted on ambulances in Punjab.
With agency inputs