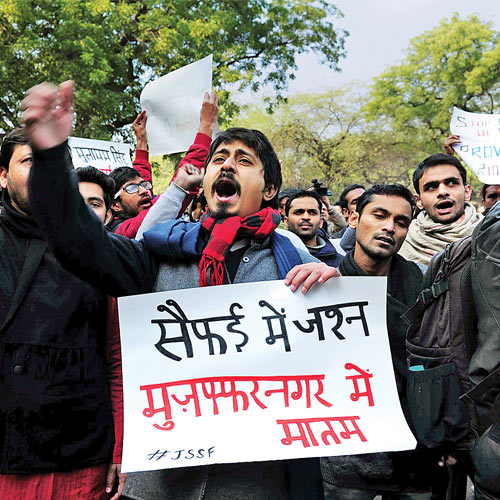 Even as the condition of hundreds of riot-hit families of Muzaffarnagar continues to be grim with Uttar Pradesh government forcing them to leave even the relief camps, the Congress-led UPA government has chosen to soft pedal the issue ostensibly to retain the support of Samajwadi Party.
Centre's deafening silence despite National Human Rights Commission (NHRC) and National Commission for Minorities (NCM) strongly indicting the Uttar Pradesh government in their reports has surprised officials across several central government ministries and departments that are keeping a tab on worsening human tragedy.
Many think that the central government is soft pedaling the issue ostensibly to keep Samajwadi Party in good humour as its support is necessary to keep the government running at the Centre.
Acknowledging that 200 have died in Muzaffarnagar riots and its aftermath, both the NCM and NHRC indicted the UP government in their reports and sought immediate relief measures to be taken on a large scale for nearly 40,000 uprooted victims living in pitiable conditions in relief camps.
To this Centre responded by sending four letters that too in December through the joint secretary of human rights division of the Union home ministry to the state government seeking status report into the death of children."Centre certainly could have done much more in such a serious matter.
One option was prime minister taking the initiative by suo motu taking cognisance and sending relief through the PM's relief fund. The least that was expected was PM or Union home minister Sushilkumar Shinde taking cognisance of situation and speaking directly to the UP chief minister. None took place," a senior government official said.
Ironically, the UP government responded in a shoddy matter to the Centre's repeated requests by sending a report prepared by Muzaffarnagar district magistrate.
Zafar-ul-Islam Khan, president of Mashawarat, umbrella organisation of various Muslim bodies, says the apathy shown by both UP government and the Centre is shocking. "The UP government is speaking lies after lies about giving relief to the victims and the Centre is digesting it with eyes closed. I visited relief camps five times and found that the talk of giving Rs5 lakh, ration and medicine to uprooted families was a total hogwash. Now relief camps are being forcibly uprooted by the UP police leaving hundreds of families in dangerous situation."
Khan maintains that if the Central government wanted it could have taken initiative to save several lives in the immediate aftermath of riots and even before the riots started by openly warning the UP government of the impending danger. "Innocent people have been made scapegoats. This is worst kind of appeasement politics between SP and Congress," Khan said.
A protest rally in Delhi also highlighted this issue on Thursday. "The UP government has crossed all limits of callous governance and cynical political calculation by ordering the eviction of riot-hit people from the relief camps," said Manish Sethi, of Jamia Teachers Solidarity Association.
"Eyewitnesses in Loi, Neem Kheri and Bhora camps have reported heavy deployment of police force and forcible closure of camps by bulldozing tents and beating up people," said Bhavna Sharma of Act Now for Harmony and Democracy.
Meanwhile, the Centre has refused to share copies of reports sent to it by the Uttar Pradesh Governor and the government on Muzaffarnagar communal violence saying it would impede probe, apprehension or prosecution of offenders.
In a related development, the Uttar Pradesh government is considering to withdraw a case of inciting violence through inflammatory speeches filed against Muslim leaders, including BSP MP Kadir Rana during Muzaffarnagar riots. The Law department of the government has asked the district authorities to send a report on withdrawal of the case filed against the leaders for allegedly inciting violence by making inflammatory speeches in a panchayat meeting at Khala Par here on August 31, 2013. — With Agency inputs