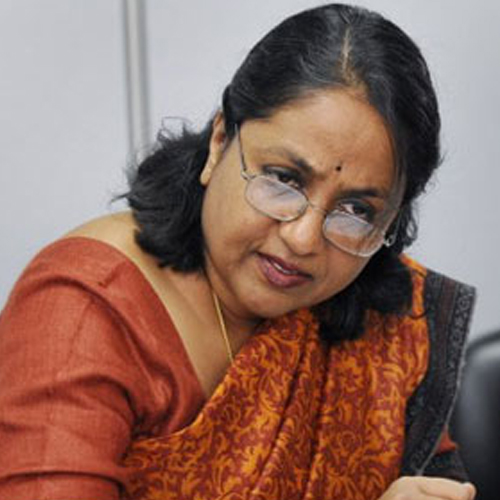 Today afternoon as I watched Foreign Secretary Sujatha Singh get irritated with journalists over cross questioning on Prime Minister Narendra Modi's interaction with SAARC leaders, I wondered why is she getting so cranky. Until realisation dawned upon me that Singh, with the entire team at Ministry of External affairs has been working non-stop for last few days to pull-off one of the grandest event in the recent years.
Singh perhaps hasn't slept for last 48 hours. Around ten days back Narendra Modi won a historic mandate and wanted to have leaders of neighbouring countries present during his oath taking ceremony. In a short duration, MEA pulled off an event which has been on a scale of a summit.
Prime Minister Shri Narendra Modi meeting with the Prime Minister of Pakistan, Mr. Nawaz Sharif. Courtesy: Photo Div. pic.twitter.com/SXJ3w8GLoR

— MIB India (@MIB_India) May 27, 2014
For lot of us, away from the scene of the action, Modi's swearing-in seems like one big celebration. But it seems the new Prime Minister had more in mind beyond a ceremony. Apart from the presence of South Asian leaders, at stake was India's sensitive relationship with many of the neighbouring countries particularly Pakistan.
But today as Pakistan Prime Minister Nawaz Sharif flew back to Islamabad, everything seemed to be okay. The bonhomie that was seen between the prime ministers of India and Pakistan continued to reflect in the media. In the press conference, though the foreign secretary looked tired and exhausted, she answered every question as the spokesperson of MEA Syed Akhbaruddin coordinated. Like a sharp diplomat Singh dodged intrusive questions from the journalists which had the potential to create controversies in media.
Handling media has always been a challenge for diplomats. How much is too much and how less is too less. The fact that Singh and Akhbaruddin did well came from a tweet from former foreign secretary Nirupama Rao, "Critically important: how both governments developed reasoned communication strategy that stays a step ahead of media, always (sic)." Clearly current foreign secretary seems to have learnt from mistakes of her predecessors. In India often the media lands up creating more animosity than intended.

And it was not just handling the media or the sensitive nature of the talks, MEA also managed to play graceful host to heads of states. Apart from Secretary Singh and Akhbaruddin, another person we might have seen in the photographs with heads of states is India's Permanent Representative at UNESCO -- Ruchira Kamboj. Ambassador Kamboj specially came down to Delhi from her positing in Paris to handle protocol. The lady in white (as she seen in most photographs) has been responsible of managing the stay of all international delegates and making their movements in Delhi smooth. Again this might seem simple for lay people but protocol is a huge deal in official circles. Who comes when? Who seats where? Who does the prime minister meet first?
Pleasure to welcome President of Afghanistan H.E #HamidKarzai @narendramodi #SwearingInCeremony at #RashtrapatiBhavan pic.twitter.com/cXcaOCNqEc

— Ruchira Kamboj (@RuchiraKamboj) May 27, 2014
We saw her at the Rashtrapati Bhawan ushering Presidents and Prime Ministers towards their seats as Modi and his ministers took their oath. This morning we saw her at South Block, once again at work ensure a smooth movements of the VVIP guests as the Prime Minister Modi held bilateral talks with Pakistan, Nepal, Bangaldesh, Maldives, Bhutan, Afghanistan and Mauritius. Between her engagements, Ambassador Kamboj also seemed to match Modi's social media skills by updating her twitter handle with photos and activities about the event.

Narendra Modi is known for his high energy level and long working hours. No doubt his officers at foreign ministry have tried to match it by organising such a big event at a short notice. People might be talking about a diplomatic coup by Prime Minister Modi but the unsung heroes are foreign secretary Sujatha Singh and her team at Ministry of External Affairs.
Watch media briefing by Foreign Secretary Sujatha Singh here:
Kunal Majumder is Associate Editor (Digital) at Zee Media Corporation incharge for dna online. He tweets @kunalmajumder.