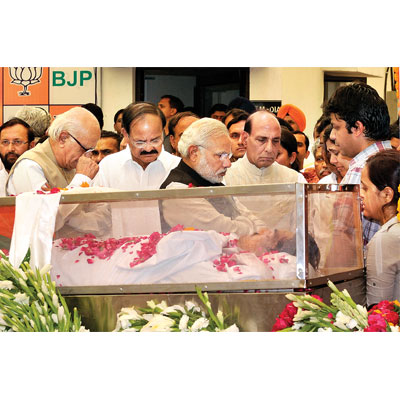 Union rural development minister Gopinath Munde is no more. The 64-year-old BJP leader, who was sworn in as minister in the Modi government on May 26, was killed in an accident here early on Tuesday morning.
Munde was on his way to the Indira Gandhi International (IGI) airport, when the accident took place. He was to board a flight to Mumbai. Instead, his body was flown to the same city later in the afternoon from 11 Ashoka Road, BJP Headquarters, where his body was kept.
Prime minister Narendra Modi, home minister Rajnath Singh and other ministers paid homage to Munde. Congress MP Rahul Gandhi also paid homage.
Munde left his residence, 21, Lodhi Road, in his official Maruti SX4 car at 6:15 am. On the way, at the Aurobindo-Safdarjung road crossing, a light grey Tata Indica dashed against the Maruti SX4. The time was 6:20 am.
Munde was conscious for a minute after the accident. He asked for water, drank it and then lost consciousness. Sensing he was critical, driver Virender Kumar and Munde's personal assistant S Nair rushed him to the All India Institute of Medical Sciences (AIIMS) at 6:30 am.
"On arrival, neither his pulse nor heart was beating. As per protocol, we put him on Cardiopulmonary Resuscitation (CPR). After trying for 50 minutes, he was declared dead at 7:20 am," said Dr Amit Gupta, one of the three doctors who conducted a post-mortem on Munde's body.
Within hours, a slew of ministers and VIPs were at AIIMS. They included Munde's friend and shipping and transport minister Nitin Gadkari, health minister Dr Harsh Vardhan, HRD minister Smriti Irani, I&B minister Prakash Javadekar and member of Parliament Meenakshi Lekhi.
AIIMS doctors said Munde died of internal injuries caused by the collision. "Internal injuries, including rupture of liver followed by internal bleeding and damage to the spinal cord, caused the death. There was one external injury – on his nose," said Dr Gupta.
Munde's personal secretary Nair said he was sitting in the front seat along with the driver, and Munde was in the rear seat on the left side. The speeding Indica had hit the Maruti SX4 on the left side, which probably accounts for Munde's internal injuries.
Doctors said internal injuries could have led to cardiac arrest. "Munde was diabetic. He also had hypertension. We found drugs that control blood pressure in his pocket. As per primary report, we can say that Munde died of internal injuries," said a doctor.
The police have arrested the Indica driver, 32-year-old Gurvinder Singh. It was Singh who had reported the accident to the police control room. After being detained for more than an hour, the police registered a case against him and produced him in the Patiala House courts, where he was granted bail.
"If we go by Munde's driver Virender's statement, the traffic light was green for 26 seconds at the time of the collision, which means that Gurvinder jumped the red light. The Indica skidded for 34 feet after the collision, indicating that the Indica was speeding. Prima facie evidence shows that Gurvinder was at fault," said SBS Tyagi, additional commissioner, Delhi Police.
Gurvinder is a driver by profession, and provides taxi services to Imperial Hotel situated in Connaught place. He owns the Indica.