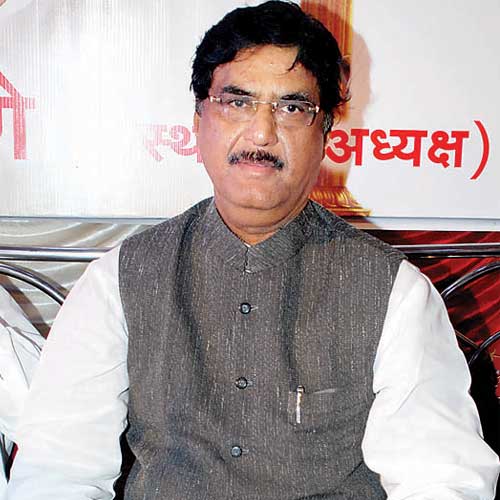 The mortal remains of union minister for rural development Gopinath Munde has been brought to the BJP headquarters in Delhi, where hundreds of grieving party leaders and workers have gathered to the final tribute.
Gopinath Munde died this morning reportedly of a heart attack after a road accident in Delhi. The 64 year old minister was on his way to the airport this morning to go to Beed for a victory rally when the accident took place. He was sworn in as a Cabinet minister last week. It has exactly been a week since he had taken oath alongwith Narendra Modi.
Munde's daughter and BJP legislator Pankaja Munde and niece Poonam Mahajan are at the party headquarters. Senior cabinet ministers like Rajnath Singh, Sushma Swaraj, Anant Kumar, Venkaiah Naidu and Smriti Irani paid tribute. Party seniors like LK Advani and Murli Manohar Joshi.
RSS chief Mohan Bhagwat is at the BJP headquarters. So is Nationalist Congress Leader Sharad Pawar. Mr Munde was one of the BJP's top leaders from Maharashtra. Besides this, Arvind Kejriwal, Sonia Gandhi and Rahul Gandhi also condoled the sudden demise.
According to his private secretary, who spoke to dna, though not physically injured in the accident, Munde suffered a massive cardiac arrest. He asked for a glass of water, which he drank, and then told his driver to rush him to hospital. He then collapsed in the car.? He was rushed to the All India Institutes of Medical Sciences (AIIMS) trauma centre at 6.30.
According to doctors at AIIMS, when Munde arrived at the hospital, he had no blood pressure, he was not breathing, and there was no pulse. Doctors carried out CPR on him for 50 minutes, but failed to revive him after his heart failed to function. Munde was a diabetes patient and also suffered from hypertension. He was declared dead at 7.20 am. Doctors say, clinically, he died from a cardiac arrest since no cardiac activity was detectable.
Former BJP president and Union Transport Minister Nitin Gadkari and Union Minister for Health and Family Welfare Dr Harsh Vardhan, spoke to the media, and confirmed the news of Munde's death. Harsh Vardhan said Munde had no external, physical injuries apart from an abrasion on his nose. The cause of death will be determined only after a post mortem.
Munde's body will be taken to the BJP headquarters at 11 Ashoka road for party leaders to pay their last respects. Gadkari said Munde's body will be flown by a special chartered flight to Latur airport in Maharahstra on Tuesday evening, from where he will be taken to his village, Parali, in Beed district for his last rites, which will be performed on Wednesday.