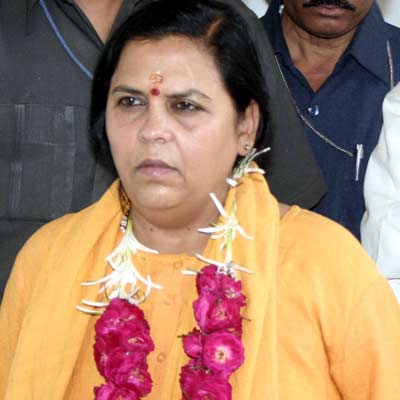 Union Minister Umar Bharti on Saturday blamed the anti-women attitude of the Samajwadi Party (SP) leaders for the lack of fear amongst criminals in the state.
Bharti said, "Mulayam Singh Yadav and other SP leaders' comments after the punishment meted out to the rapists of Nirbhaya have resulted in encouraging potential rapists, especially in UP."
The Water Resources Minister also said that the UP Government was also a culprit in the rape cases as it had publicly provided words of encouragement to the rapists.
Bharti demanded an apology from Mulayam Singh Yadav as well as death sentence for the rapists by hanging them publicly. She also said that the case should be referred to a fast track court.
Regarding Uttar Pradesh Chief Minister Akhilesh Yadav's remarks to a woman journalist, Bharti said he should not carry his father's legacy of insulting women.
Chief Minister Akhilesh Yadav had snapped at a woman journalist saying 'you feel safe, don't you' when questioned about the spate of crimes against women in UP. His father Mulayam Singh had also earlier remarked that 'boys are boys and mistakes happen. Will they hang them for rape?'