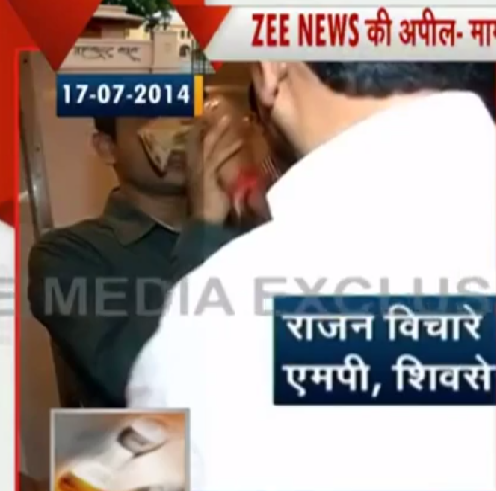 Even as Shiv Sena MPs have denied allegations of forcing a Muslim catering supervisor to break his Ramzan fast at Maharashtra Sadan in New Delhi last week, a video footage grabbed by 'Zee Media' has emerged which clearly shows Rajan Vichare, Sena MP from Thane, forcing the Muslim supervisor to eat chapati.
Defending his act Shiv Sena MP Rajan Vichare siad, "I was protesting against the quality of food at Maharashtra Sadan." Later, Vichare was forced to apologise and issued a statement saying, "I regret if anyone's religious sentiments were hurt. I did not know that the employee was a Muslim. I respect all religions and have even attended roza as well as iftar parties. The real responsibility is of Resident Commissioner Bipin Mallick as to eat food we have to go to Gujarat and Uttar Pradesh bhawans.
But the act has sparked outrage with opposition parties severely criticising the Shiv Sena MPs and demanding a through probe into the matter. Senior Congress Leader Kamal Nath said, "This is an extremely shameful thing and it demonstrates the Shiv Sena's mindset."
Meanwhile, Shiv Sena party chief Uddhav Thackeray said," There was no intention to hurt religious sentiments and it is an attempt to suppress our voice",
A week ago, around 11 Shiv Sena MPs had visited the Maharashtra Sadan and were reportedly angry over not being served Maharashtrian food. The Shiv Sainiks then proceeded to force Arshad Zubair S, who was fasting for Ramzan, to eat a chapati. The incident took place when a group of around 15 MPs were discussing complaints about the lack of services at the Sadan.
Even Jama't ud Da'wah chief Hafiz Saeed commented against Shiv Sena's forceful feeding incident.
Incidents against Muslims are continuation of Gujrat & Muzaffarnagar massacres. Secular India is dillusion,Two-Nation theory; Fact & Reality

— Hafiz Muhammad Saeed (@HafizSaeedJUD) July 23, 2014
Muslims should unite for the protection of their Masajids, Lives and Values which are under constant threat in India #ForcedToBreakFast

— Hafiz Muhammad Saeed (@HafizSaeedJUD) July 23, 2014
#ForcedtoBreakFast Incident is an attack on Muslim faith and values; Muslims in India should stand up, organize & unite against subjugation

— Hafiz Muhammad Saeed (@HafizSaeedJUD) July 23, 2014
In Modi's Govt, these incidents are not a surprise. This 'face' of India resulted in the creation of Pakistan #ForcedToBreakFast

— Hafiz Muhammad Saeed (@HafizSaeedJUD) July 23, 2014
In Modi's Govt, these incidents are not a surprise. This 'face' of India resulted in the creation of Pakistan #ForcedToBreakFast

— Hafiz Muhammad Saeed (@HafizSaeedJUD) July 23, 2014
Below are some other Twitter reactions:
Problem is Shiv Sena hooliganism, lawless behavior, goons as members of parliament, not so much the person forced to eat was fasting #India

— Shakir Husain (@Husain_Shakir) July 23, 2014
Shiv Sena MP Force-Feeds a man, Arshad Zubair, fasting for Ramzan. Rajan Vichare,says the force-feeding to protest against poor food #shame

— QueenBee ♕ (@vaidehisachin) July 23, 2014
@INCRevive The entire Shiv Sena party must be conferred with Bharat Ratna for force feeding a fasting Muslim. Jai Maharashtra

— Saeed Ahmed (@sahmed26) July 23, 2014
Force to break fast by shiv sena MPs,...against human rights ...somebody raise voice against it pls,...#shivsena #fasting #maharashtra #

— Sharafudheen (@iamsrf007) July 23, 2014
even if the man was not Muslim or fasting, Shiv Sena MP action can not be justified.

— kashif-ul-huda (@kaaashif) July 23, 2014
absolutely disgusting ,shocking act by ShivSena MPs to stuff rotis on someone fasting on Ramzan!thuggish, unacceptable!"@AUThackeray

— Roshni (@Roshnisyed) July 23, 2014
absolutely disgusting ,shocking act by ShivSena MPs to stuff rotis on someone fasting on Ramzan!thuggish, unacceptable!"@AUThackeray

— Roshni (@Roshnisyed) July 23, 2014
Dear Shiv Sena MP: Since when protesting against bad quality of food boiled down to force-feeding a man fasting for Ramzan?

— Kirti Khanna (@KutchaRaasta) July 23, 2014
I am not even fasting or anything but a Shiv Sena MP tries to feed me, I will break his fucking face. Fucking punks.

— Angry Brown Man (@AListRap) July 23, 2014
Even if he was not fasting the act is display of Shiv Sena's hooliganism

— Vivek Sakpal (@viveksakpal) July 23, 2014
If Shiv Sena MPs did force a roti into the mouth of a fasting Muslim caterer citing poor quality of the food, this is a serious #hatecrime.

— Dr.Srijana Mitra Das (@srijanapiya17) July 23, 2014
Shiv Sena MP pulled the roti away as soon as he realized that the man was fasting. There's no communal color. CALM THE FUCK DOWN MEDIA!

— MeghaSharma (@crazyabtsrk) July 23, 2014
Those who are fasting must send Maharashtrian food to the Shiv Sena MP's home in Thane. That would be the most dignified way to protest!!

— Mahesh Bhatt (@MaheshNBhatt) July 23, 2014
China bans fasting during ramzaan. ShivSena force feeds a fasting Muslim during ramzaan. On our way to become China. Achche din aa rahe hai.

— TweetingAround (@NaveenAmola) July 23, 2014
News comming in that Shiv Sena MP's force fasting Muslim staffers to eat Roti's. BJP's Lal Krishna Advani says what happened is not right.

— Suyash Karangutkar (@columnistsuyash) July 23, 2014
Force feeding a fasting muslim to eat....Wish i never heard that!!! #ShivSena

— Non Omnis Moriar (@nutty_tweetz) July 23, 2014
#ShivSena MP forcing fasting Muslim to eat is condemnable. New lows being set by the MPs!

— vikas khanna (@vikaas_khanna) July 23, 2014
Watch the video of incident below: