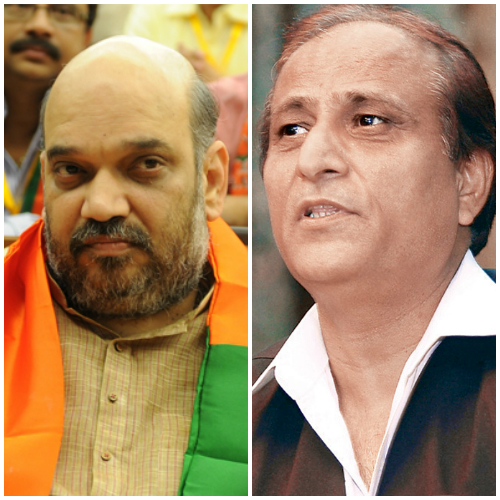 The Election Commission on Thursday lifted its ban on Amit Shah from campaigning in Uttar Pradesh for the upcoming elections, while the ban on Azam Khan continues to stay.
This has received majorly positive reactions from various sections of the society, while the political parties such as Samajwadi Party (SP), seem to be miffed with this decision.
Although Shah had promised the EC that he would not disturb the public law and order, SP spokesperson Rajendra Chowdhury said that it was BJP and BJP's character could not be trusted.
"They had given an undertaking in the SC yet Babri mosque was demolished", he added to PTI.
While giving Shah a "second chance" the Commission had said that it will "closely monitor" his campaign by constant video tracking by concerned district election authorities.
Both Shah and Azam were banned by the EC on April 11 from campaigning in the state following their controversial remarks during their election campaigns in Uttar Pradesh.
Many people welcomed this move of the Election Commission and even called it a 'triumph' of truth on Twitter.
Several people tweeted about how this was bound to happen as there was no substance in the accusation:
Below are some curated tweets:
Amit Shah using 'revenge' in context to the ballot becomes hate speech. Priyanka Vadra using 'war' in context to ideological war, does not?!

— Priti Gandhi (@MrsGandhi) April 16, 2014
the failure of EVEN ONE bjp troll to admit that amit shah, even after confessing, was wrong, has made me realize something...

— raghu ram (@tweetfromRaghu) April 18, 2014
EC lifts ban on Amit Shah in spite of the fact that he was booked for making a HATE speech. How much more obvious can this get.

— Ayuq Khatib (@AyuqKhatib) April 18, 2014
Amit Shah never made hate speeches. Media tried hard to club him with Adam Khan but it was never gonna cut ice with EC or public #LeaderNaMo

— Hitarth Maru (@Hitarth1987) April 18, 2014
EC lifting ban on @AmitShahOffice shows how even the best can be influenced by MSM to take wrong step basis latter's biased propaganda!!

— Nitin Kashyap (@NitinKashyap_) April 18, 2014
Seems EC has removed restrictions on Amit Shah. Can hold rallies.. Glad.. He was being hounded unnecessarily.. I

— Sunanda Vashisht (@sunandavashisht) April 17, 2014
Welcome EC's decision to lift ban on Amit Shah campaigning in UP. Good to know, no matter what truth always triumphs.

— Vijender Gupta (@Gupta_vijender) April 17, 2014
EC ban on @AmitShahOffice lifted. Gr8.. it was bound to happen. Now back to nationalistic work. Vote for India, vote for Modi #LeaderNaMo

— Momee Borah (@RazorSharp_24) April 17, 2014
Hurray! EC lifts the ban on Amit Shah from campaigning! While no decision on Azam...ban continues on him!

— Raghunath AS (@asraghunath) April 17, 2014
Aww how sweet! Amit Shah hits campaign trail again, love and benovalnce find a voice again as EC lifts ban

— Preeti Sharma Menon (@aapkipreeti) April 17, 2014
"Wounded Tiger will be now more aggressive & Lethal" EC allows BJP leader Amit Shah to resume campaign in Uttar Pradesh. #NaMo #HDL #LS2014

— Dr.Satvik Patel (@DrSatvikPatel) April 17, 2014
"@ibnlive: RT @IBNLiveRealtime EC allows Amit Shah to resume campaign in Uttar Pradesh" wow what an effective & unbiased EC

— Danish Khan (@KhanDM) April 17, 2014
Also read: Samajwadi Party's reaction to the Election Commission's decision on lifting the ban on Amit Shah.