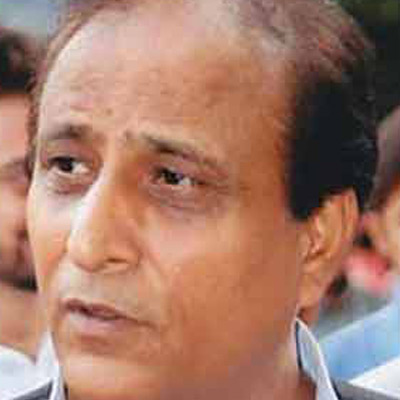 Samajwadi Party leader Azam Khan's controversial remarks that the Kargil war was won by Muslims triggered an angry response from politicians as well as social media users.
Today, the Election Commission barred Azam Khan and BJP leader Amit Shah from campaigning in UP and ordered the filing of FIRs against them. However, Azam Khan came up with another gem - that 'Allah' had punished Rajiv Gandhi and Sanjay Gandhi (by killing them) for their actions.
Soon after, the Election Commission's decision, Twitter was abuzz with people condemning Azam Khan. The outrage only increased after his remarks about Rajiv Gandhi and Sanjay Gandhi. People also targeted SP supremo Mulayam Singh, leader Abu Asim Azmi and Amit Shah for their recent remarks.
Expelled AAP member and ex-MLA from Delhi Vinod Kumar Binny took the opportunity to question Arvind Kejriwal's silence over the issue and accused him of fake secularism:
Dear @ArvindKejriwal , why do u remain pin-drop silent, to speak against Imran Masood, Imam Bukhari & now Azam Khan? #BurqaOfSecularism

— Vinod Kumar Binny (@AAPkaBinny) April 9, 2014
One Twitter user felt Azam Khan should just be stopped from contesting elections, instead of all the brouhaha over the matter:
Take back Azam Khan's ticket and ban him from contesting why so much arguments

— Rachana Raj (@Integrated_me) April 9, 2014
Another user compared the stoning of Yuvraj Singh's house to people's silence over the remarks of Azam Khan, Abu Azmi and Mulayam Singh:
Pelt stones on the house of Yuvraj Singh while people like Azam Khan,Abu Azmi and Mulayam Singh Yadav are never targeted .Indians, basically

— Sushant Jha (@sushantJha) April 11, 2014
People also questioned why no action had been taken against Rajasthan CM Vasundhara Raje:
Thanks EC for taking action against Amit Shah, Azam Khan and Imran Masood, but what about Vasundhara Raje? Or she's above law?

— ????? ???? 'Xzeal' (@theXzeal) April 11, 2014
User Amit Kumar was humorous in his assessment:
Congratulations to Azam Khan and my namesake.

— Amit Kumar (@AmitNirmohi) April 11, 2014
User Sourav Mitra called for Azam Khan to leave politics:
Politicians like Azam Khan, Abu Azmi, Mulayam Singh Yadav have amassed so much wealth. Why don't they just retire and leave politics?

— Sourav Mitra (@souravmit) April 11, 2014
Foot-in-mouth statements have been made by several Indian politicians over the years, but during these elections we are seeing a flood of such statements. Whether this is due to an inclination for vote bank politics or mere callousness in speech may never be known. But it is certain that such statements do not help the larger cause of the country in any way, and only serve to cause outrage and differences between communities.