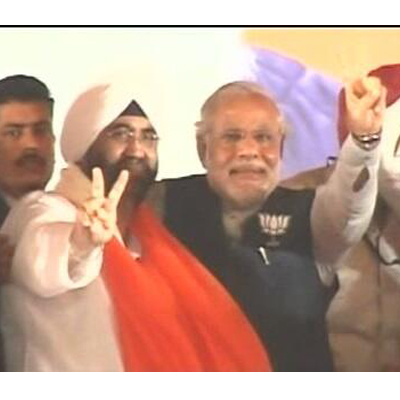 The constant rantings and comments about the country's Prime Minister seem to be going strong this election season. As Manmohan Singh's step brother joins the opposition BJP, the reticient Sikh is bound to be targeted a few more times.
Daljeet Singh Kohli joined the Shiromani Akali Dal and BJP confluence in Punjab on Friday. This political move has created a rather easy way for the BJP to stay in news.
Narendra Modi who was addressing the rally at Amritsar, greeted Kohli with arms wide open. The new found warmth is sure to strike up many sparks in the big bad world of politics.
As the news surfaces, Twitter reacts to the reports:
Diljeet Singh kohli brother of Manmohan Singh joins BJP In this Ravan vs Vibhishan fight, every Vibhishan wants to join BJP #2014elections

— αβħ!ѕħ€ҟ (@RealARP) April 25, 2014
Manmohan Singh says he's saddened by brother's decision to join BJP. He should be happy at least one brother had courage to do right thing

— rajesh singh (@rajeshsingh1958) April 26, 2014
rahul's brother joined @BJP4India ,manmohan's brother too.now the million dollar ques for BJP is does @ArvindKejriwal has a brother?

— shazia ilmi (@shaziaimli) April 26, 2014
Priyanka Gandhi: What Manmohan ji? It seems your brother is helping the BJP win. Manmohan: Er... what about your brother? #FakingNews

— Ramesh Srivats (@rameshsrivats) April 26, 2014
The only qualification of Daljit singh is that he is Manmohan's step brother. or is there any other which i missed?

— Arnab Modi (@justicearnab) April 26, 2014
PM Manmohan Singh's brother Daljit Singh Kohli joins BJP. Now waiting for Priyanka's brother to join BJP

— Abhijit Majumder (@abhijitmajumder) April 25, 2014
While welcoming brother of Manmohan Singh into BJP was masterstroke but making too much of it was unnecessary.He's no political heavyweight

— Madhu Kishwar (@madhukishwar) April 26, 2014
Manmohan Singh's Brother Daljit Kohli read accidental Prime Minister and decided to redeem family's name by joining @BJP4India cc @PMOIndia

— Vijay Dwivedi (@agenthunt) April 26, 2014
@vishmanve12 BREAKING NEWS: Out of obscurity Jashodaben joins Congress!!! :D

— Rai Sin Bran (@RaiSinBran6) April 26, 2014