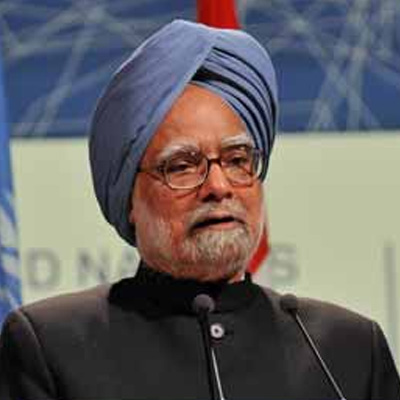 Prime Minister Manmohan Singh has finished his second term as the head of the government on Tuesday, and will not be seeking a third term. Consequently, a farewell dinner was organised for him. He also received a standing ovation as he left the South Block office for the last time on Tuesday.
However, Manmohan Singh is widely perceived to be a weak prime minister. It is alleged by the media, the public and certain prominent figures like Sanjaya Baru - ex-advisor to the PMO, that Singh was superceded by Congress President Sonia Gandhi, who had the final say in matters of governance.
Manmohan Singh thus leaves behind an image of a humble yet incompetent prime minister. Moreover, the BJP-led NDA government widely expected to take over at the Centre when the election results are announced on May 16.
Twitter on Tuesday was abuzz with the news of Singh's departure. The hashtag #ThankYouDrManMohanSingh was the top trend in India. However, the tweets were not all complimentary of Dr Singh. Some twitter users engaged in ridiculing Dr Singh or expressing relief at his departure. Here's the first negative tweet:
#ThankYouDrManMohanSingh You are the first robot to ever become the Prime Minister of any country. Respect.

— Gautam Verma (@gautamverma23) May 13, 2014
This user indulged in downright ridicule:
Just noticed there's a #ThankYouDrManMohanSingh hashtag. The Congress giving him a sarcastic thanks for losing the elections?

— Amreekan Desi (@amreekandesi) May 13, 2014
This was a snide remark:
Not a single rally have been done by MMS in 2014 election campaign. I think MMS also wants #abkibarmodisarkar #ThankYouDrManMohanSingh

— Saurabh Patel (@saurabh_kpatel) May 13, 2014
This tweet expressed the long-held view that Sonia Gandhi was the real power behind the government:
U were a gr8 finance minister.u wld hv been a gr8 PrimeMinister as well,if u had taken ur own decisions,not sonia's #ThankYouDrManMohanSingh

— PawanKalyan (@PawanKalyanFan) May 13, 2014
However, there were also many tweets which expressed genuine gratitude for Singh. There were people who praised his achievements and also those who empathised with him, blaming others for the government's poor performance. Some users were appreciative of his role as the Finance Minister in the 1990s under the Narasimha Rao government, crediting him for opening up the Indian economy.
#ThankYouDrManMohanSingh you changed 1 billion people's lives , taught us to see big dreams , you gave us rights & empowered us

— Becky (@calmgalin) May 13, 2014
No matter what critics say, the last 10yrs has been a golden period for most people I know #ThankYouDrManMohanSingh pic.twitter.com/8Tcqt4F6sc

— Srivatsa (@srivatsayb) May 13, 2014
i think MMS is da lucky and unlucky pm of india but he done so many good work #ThankYouDrManMohanSingh salute sir

— N.L.Phani.Kumar (@naramphani) May 13, 2014
If we really want to #ThankYouDrManMohanSingh , we must thank #PVNarshimaRao for giving MMS to this country

— satyajeet tambepatil (@satyajeettambe) May 13, 2014
#ThankYouDrManMohanSingh for always displaying grace under fire. Most of the jokes on you were uncalled for.

— Chupdi Chachi (@appadappajappa) May 13, 2014
#ThankYouDrManMohanSingh Thank you for all the hard work. You've taken the fall for many things but you deserve your kudos! :)

— Chupdi Chachi (@appadappajappa) May 13, 2014
#ThankYouDrManMohanSingh for being such a humble person. U were the most #HonorableMan in the #Congressi squad.

— Akshay Srivastava (@akshay_csit) May 13, 2014
#ThankYouDrManMohanSingh .A true statesman criticized 4 being a gentleman. Since d election is over Opposition shuld b true 2 themselves now

— Roji M John (@rojimjohn) May 13, 2014
Manmohan Singh's period as Prime Minister is seen by many as a time of squandered opportunities, of a reversal in the country's economic fortunes, and of innumerable scams and scandals. What remains to be seen is whether a Narendra Modi-led BJP does actually come to power, and to what extent it can change the political and socio-economic scenario of the country.
It will also be interesting to see how the Congress party proceeds if it loses the elections. What strategies will the Congress formulate to revive itself, and will it continue to push Rahul Gandhi as a future leader or groom someone else after the electoral defeat?