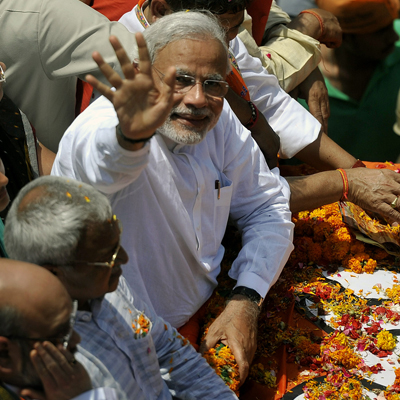 An anti-Modi hashtag '#BJPdrama' has been trending on Twitter ever since follwers of BJP prime ministerial nominee Narendra Modi and party workers began protesting outside the Banaras Hindu University (BHU) on Thursday morning against the Election Commission for denying Modi permission to hold his rally in Varanasi's Benia Baugh. He was also at first not permitted to conduct the Ganga aarti. Senior BJP leaders Arun Jaitley and Amit Shah have been leading the protests. Anti-Modi Twitter enthusiasts have been flooding the micro-blogging site with tweets calling this protest pure 'drama'.
Here's a look at the tweets by the 'aam angry janta'
:MODI CAN GO TO ANY EXTENT TO ATTAIN PM CHAIR..HE MAY KILL PEOPLE AGAIN (WHICH HE HAS ALREADY DONE)..DRAMA IN D NAME OF GOD?? #BJPDrama

— Manindar (@manindar100yaho) May 8, 2014
Dear BJP, you think running India is a piece of cake? If you start Dharna before elections, what will you do after them? #BJPDrama

— Prince Kumar (@PrinceKumarIITD) May 8, 2014
Indira Tiwari TMC candidate from Varanasi harrased by #namobhakts during #BJPDrama #VaranasiBlock.

— Taranpreet Dhillon (@IAMTARAN) May 8, 2014
Topi COPY, Manifesto COPY, Campaigning strategy COPY , now Dharna COPY , but Media ll call it Stayagarh. #BJPDrama @AamAadmiParty

— Rahul Sharma (@rahi_rahul) May 8, 2014
Basically Modi wants to invoke Hindutva in Banaras by showing that he's being deprived of Ganga aarti. Low-level politics. #BJPDrama

— Simar. (@SimarveerSingh) May 8, 2014
achhe din aane wale .....hum darama karne wale h.. #BJPDrama

— sanjeevbhalothiya (@sanjeevbhalothi) May 8, 2014
When AAp did it it was Tamasha, when BJP does it, its Satyagraha . #BJPDrama

— Rahul Upadhyay (@englisbabu) May 8, 2014
#BJPDrama Students in BHU not able to give exams. Will BJP give jobs to failed students? #VaranasiBlock

— Anand Agarwal (@anandkag) May 8, 2014
Critics and opponents of Modi have been mocking the protest and venting their angst over the inconveniences caused by the protest.