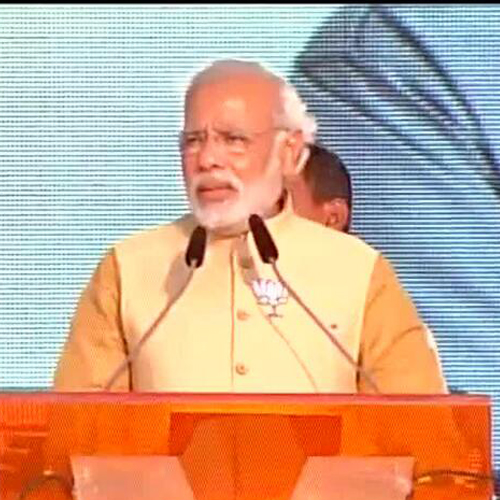 Narendra Modi on Sunday hit out at the Trinamool Congress for claiming to be a do-gooder for Muslims, saying the minority community is far better-off in his state Gujarat than in West Bengal.
Modi claimed that the Sachar Committee report had shown the truth with regard to development of minorities in different states.
"Muslims in West Bengal have to force the TMC government to do politics of development for them instead of indulging in votebank politics," Modi told an election rally in Asansol, continuing the ongoing verbal duel between him and TMC chief and West Bengal chief minister Mamata Banerjee.
Both have been making allegations and counter-allegations in this election season with the attacks sometimes taking a personal hue.
"Every state has a quota for Muslims to go for Haj and Gujarat has a quota of 4,000 people to go for the pilgrimage each year," he said, adding, that 40,000 people apply for the pilgrimage from his state, reflecting the financial position of Muslims there.
"In Bengal, the quota for Haj is 12,000 and applications are made less than that number," he said wondering "who is responsible for the Muslims' poverty here." Reeling off statistics about Muslims being better-off in Gujarat, Modi, who was termed as the "butcher of Gujarat" by the TMC following his threat to throw out Bangladeshis after May 16, said "over 60% Muslims in Gujarat get primary education, while it is less than 50% in Bengal." He claimed that while per capita income of Muslims in rural Gujarat was above Rs 700, it was below Rs 500 for the same category in the Trinamool Congress-ruled eastern state.