Terrorist leadership was planning major attack to avenge Muzaffarnagar riots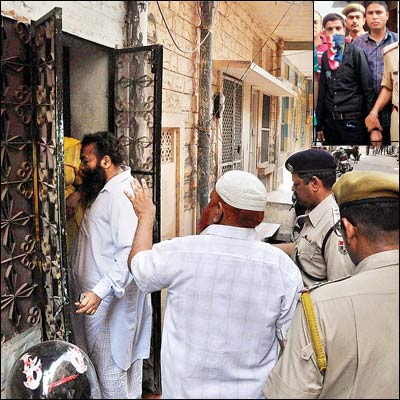 The arrest of suspected top Indian Mujahideen commander Tehseen Akhtar, 24, from Nepal on Tuesday, could bring temporary respite to security establishment in India, as all four top operatives of IM are now behind the bars. Tehseen, officials claim, was planning to seek refuge in Bangladesh and was not carrying any weapon or explosives at the time of his arrest.
However, the danger of further attacks looms large as arrested operatives, sources claim, have hinted at a major attack planned by IM leadership based in Pakistan to avenge 'atrocities against Muslims' during Muzaffarnagar riots.
After the arrest of Akhtar near West Bengal-Nepal border in Naxalbari area, one of two Bhatkal brothers – Riyaz and Iqbal -- co-founders of IM, would be compelled to take the reigns of IM in India. "One of them may soon visit for setting up fresh modules and also taking stock of the network on ground level," said a senior investigating official.
Akhtar was alleged mastermind behind Patna blast in 2013 and several other blasts in previous years. He along with Yasin Bhatkal and Waqas had planted bombs in Mumbai in 2011 and was involved in Varanasi and Hyderabad blasts as well.
The tech savvy IM commander hails from Dharbanga in Bihar, where he came in contact with Yasin Bhatkal through an acquaintance Gayoor Jamal, who was arrested in November 2012.
"He was changing his location after arrest of Waqas from Rajasthan last week. Most probably he was on way to Bangladesh," said special commissioner (special cell) S N Srivastava. Akhtar spent his most of the time in Rasjasthan, where he had also allegedly managed to start a fresh module cracked by special cell last week. Investigators claim that Akhar had stayed in Mannar of Kerela and Mangalore, where he tried to set up IM base and recruit youth as well.
As per the National Investigation Agency's charge sheet filed in court last month, Akhtar, had stayed in Ranchi as well, where he was in touch with a member of banned organisation, SIMI, Haider Ali. During his stay in Ranchi, Akhtar sported a tilak and masqueraded as a Hindu to hide his identity.
"IM had managed to penetrate in Rajasthan, invoking the anti-Muslim riots that took place in Bharatpur in 2011," said a senior police official.
Bhatkal brothers
Riyaz Bhatkal is the one of the three Bhatkal brothers who founded Indian Mujahideen, a terrorist group based in India. He is wanted terrorist in India involved in several terror strikes primarily 2011 Mumbai blast, German Bakery blast in Pune and serial blasts in Delhi. At present he is living in Karachi with his brother Iqbal and is likely to make return following the arrest of all major commanders of the group.
Iqbal Bhatkal, brother of Riyaz also lives with him in Karachi and is believed to be the mastermind or key person behind many terror strikes in India including Mumbai train blasts and Jaipur blasts. He also played an active role in providing logistics for serial blasts in Hyderabad. He mainly looked after the transport of explosives from one part to another in India.