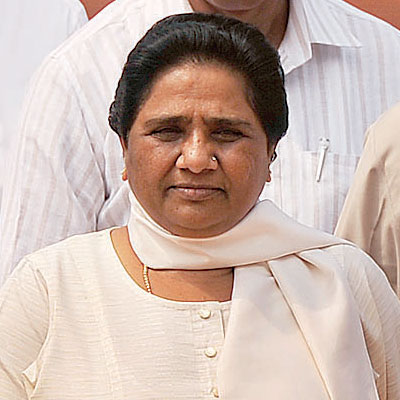 Three Ms don't make the model code of conduct – Mayawati, Modi and Mulayam. On the eve of the Election Commission's announcement of the model code of conduct, BSP supremo Mayawati in New Delhi launched a vitriolic attack on rivals - Modi and Mulayam. She called them all sorts of names and made it clear that she was ready for a fight to the finish.
"Of what Modi is guilty in Gujarat, Mulayam is equally guilty of the same in UP. Both are co-conspirators and play a fixed match together in Muzaffarnagar and Shamli at the cost of hundreds of lives. They are enemy of Muslims and are like Chor Chor Mauserey Bhai…," said Mayawati.
Trying to pitch that the main fight is between BJP and BSP, she focused her attack, in particular against BJP's prime ministerial candidate, Nardendra Modi saying that Modi ran "a corrupt government in Gujarat" and his party BJP stood for "Bahut Jyada Paap".
"Modi's allegations on corruption in our government are wrong. Modi's government in Gujarat is the most corrupt. They did not appoint a Lokayukta there. What about the corruption in Karnataka, under BS Yeddyurappa? Why does Modi not speak about him in his sweet voice?" she asked.
She ruled out any alliance between her party and the BJP after the Lok Sabha elections. "We will do everything possible to stall Modi from coming to power," she said.
On her plans of supporting other parties at the Centre after elections, Mayawati said, "Why should we only think of supporting others? We can try to become the centre of power or balance of power and force others to support us," she said.