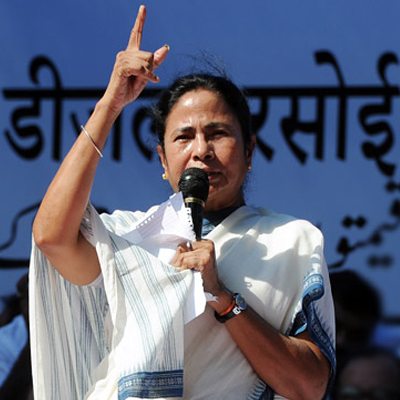 Claiming that Trinamool Congress would "control" the new government at the Centre, West Bengal Chief Minister Mamata Banerjee today said deduction of state's funds by Delhi for the debt burden passed on by the previous Left Front would not be allowed in the future.
"Trinamool Congress will control the government in Delhi. The Centre took away Rs 86,000 crore from Bengal in the past three year for loans," the Trinamool Congress supremo said at election rallies in Keshiary and Garbeta in West Midnapore district, a former Maoist stronghold.
"They are depriving us of funds to stop development. They are not giving funds for 100 days work. We will not allow Delhi to deduct funds in future," she said.
Accusing the BJP of "causing riots", she said people should not vote for BJP, Congress or CPI(M), which she claimed had joined hands against Trinamool Congress.
"BJP no, no, no. They cause riots .... Do not give votes to Congress also which is responsible for price rise. They have hiked the prices of petrol, diesel and gas," she said.
"Do not vote for CPI(M) who only bury skeletons," Banerjee said in an apparent reference to skeletons dug up near a former CPI(M) minister's house in the district in 2011.
"CPI(M), Congress and BJP are hand in glove ... Bury the CPI(M), Congress and BJP," she said.
Later, addressing another election meeting at Garbeta in the district, Banerjee said, "If you give your vote to BJP then CPI(M) has a chance. If you vote for Congress then CPI(M) has a chance. This is their ploy.
So don't give even a single vote to them," the Trinamool chief said.
She also blamed political parties for influencing a section of the media, saying they were not showing news, but views.
Don't trust them. Trust me," Banerjee said.