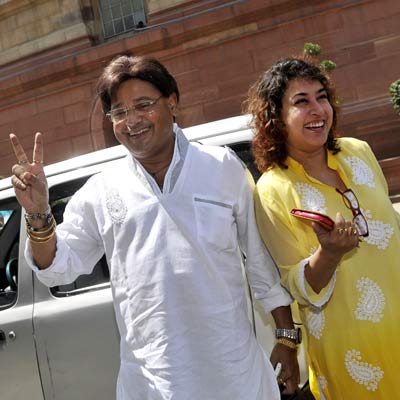 Barely a few weeks after the outrage vented over the Badaun gang-rape, a video has emerged where leading Trinamool Congress (TMC) politician Tapas Pal is seen threatening to rape women belonging to the opposition party.
The video which is allegedly said to be a few weeks old shows Pal screaming threats of violence at rival party workers at Krishnanagar. In the same speech he is shown threatening to rape women as well. 'If CPM tries to kill and intimidate our workers here, I will not spare them. I will send my boys and get CP​I women raped if necessary."
Pal however denies the allegation and has said in a TV interview that he said 'raid' and not 'rape'. 'I never used the word rape, I said raid instead', he said according to reports.
The entire video has captured Pal making threats of violence against CPM workers. He even brags about about being a gunda (thug) and carrying a revolver. 'I move around with a revolver. I will pull the trigger myself.
'I have been a gunda. I have fooled around myself', he is seen yelling at the crowd.
So far TMC supremo, and West Bengal's Chief Minister Mamata Banerjee has kept mum over the issue.
TMC's Derek 'OBrien has responded to the issue and said that the party absolutely doesn't endorse Pal's statements.
TMC doesnt endorse the statement made by Tapas Pal, the statement was utterly insensitive: Derek O'Brien pic.twitter.com/7KGVaYZnBf

— ANI (@ANI_news) June 30, 2014
He even tweeted over the issue, subtly decrying his party member's act.
Whatever provocation or perceived provocation, people in public life have to be extra-careful in what they say. Can't shoot your mouth off

— Derek O'Brien (@quizderek) June 30, 2014
Sensitive use of language is an obligation for role models in culture, politics and society. If that code is breached, public trust is lost

— Derek O'Brien (@quizderek) June 30, 2014
Meanwhile West Bengal Education Minister Partha Chatterjee said, "Where did he say this? I will have to check. If he has said this, then the party does not support such remarks."
Congress' Pradeep Bhattarchary however has demanded that Mamata take action. He said, "I cannot believe herself being a woman how Mamata Banerjee can allow a man like Tapas Pal to be in the party. He should be sacked immediately."
Manish Tewari also said that violence has no place in politics and condemned the issue.
Violence has no place in politics, its unfortunate such language is used: Manish Tewari on Tapas Pal's statement pic.twitter.com/jf3sFZXzmf

— ANI (@ANI_news) June 30, 2014
Kiran Bedi said that the onus was on Mamata Banerjee to sack Pal from the party.
Onus is on Mamata Banerjee to throw him out of party, suspend him from Parl & register FIR: Kiran Bedi on Tapas Pal pic.twitter.com/EXv4R6l5tj

— ANI (@ANI_news) June 30, 2014
Paul is a Bengali actor turned politician from Krishnanagar constituency of West Bengal
(With Agency Inputs)