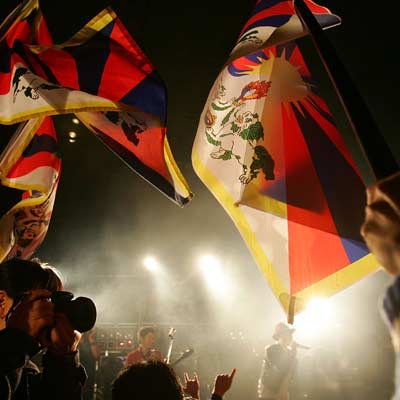 Threatened by the dangling sword of Chinese inttelligence and its spy network, government of India has started firstever census of Tibetan population in the country through biometric registration.
The step has been taken to get the exact number of Tibetan refugees staying in India and more importantly to keep a check on Chinese spies, who would intrude in India disguised as Tibetans.
The ministry of home affairs started the registration at Majnu-Ka-Tila — a Tibetan settlement — in north Delhi in February this year and the process would be held at other places soon. The minsitry officials confirmed that the registration has started but did not give details about the reasons behind the move.
"The ministry informed us about the decision to conduct census of Tibetans to get exact figure of population living in India," said Tsewang Gyalpo Arya, secretary at Bureau of the Dalai Lama, here in New Delhi. However, he was quick to add that there is security angle to the issue as well.
"Many Chinese informers infiltrate disguised as Tibetans. They try to get information and report back to the communist government. GoI wants to keep a check at this level as well," he added.
In May 2013, Pema Tsering, a suspected Chinese spy was arrested in Dharmshala, the seat of the Tibetan government-in-exile and the Dalai Lama. The police recovered Indian voter ID card and Aadhar card from Tsering's possession, who had entered India in 2009. In January 2009, another Chinese national Ley Xiuan was arrested from Dharmshala on charges of spying.
At Majnu Ka Tila, government officials have set up a base at local Tibetan school where people from the community with all their indentification and residential documents come for registration. According to sources, some of the Intellegence officials are supervising the process along with ministry officials.
The Bureau of the Dalai Lama conducted a survey in 2009 which stated that around 1.09 lakh Tibetans live in India including more than 2,000 community members staying in the capital. The ministry of home affairs has also asked the Bureau to submit its census report.
The community has been living in India in large numbers since 1959, when their sipritual leader Dalai Lama crossed the border fleeing from Chinese repression.
Interestingly, the Election Commission of India recently ordered that all people from Tibet origin born in India between 1950 and 1987 have voting rights. "We are comfortable with the registration process as long as it serves interests of both Tibetans and India. But, government of India has to take up the issue of Tibet with China in more proactive manner," said Tashi Dhondup of Tibetan Youth Congress.
The ministry officials have also communicated to Tibetan goverment that they were concerned about security of the Dalai Lama and could not take any chance with it. "Dalai Lama mingles with the community freely and we have to be careful, who all come close to him," the ministry officials told Tibetan representatives. "We have no problem with registration. India has supported us for 55 years and it could not harm the cause at this juncture," said Tenzin Choedar, 31, who was born in India.