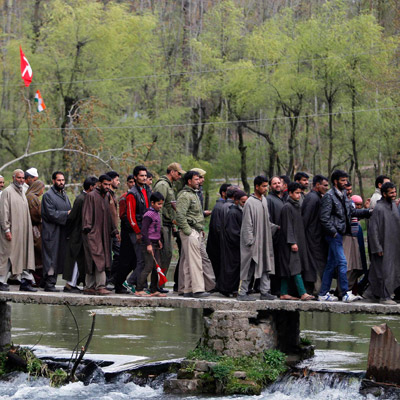 Three troopers were injured Tuesday when guerrillas attacked a paramilitary camp in Jammu and Kashmir's Baramulla district on the eve of polling to the Baramulla Lok Sabha seat, police said.
A senior police officer said here that militants attacked Central Reserve Police Force (CRPF) camp in Sopore town of Baramulla district, 54 km from here, Tuesday evening.
"Militants fired at the CRPF camp located in the State Bank of India building in Sopore town today evening. Three CRPF personnel have been injured in the attack. An operation has been launched to trace the militants," the officer said.
The attack has come less than 12 hours before the north Kashmir Baramulla Lok Sabha seat goes to vote Wednesday.
Earlier Tuesday, militants hurled a petrol bomb at a school building in Watergam village of Baramulla district.