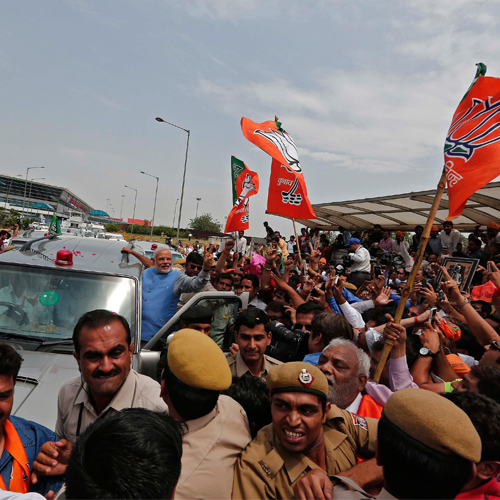 The atmosphere at the capital's Indira Gandhi International airport on Saturday morning was charged. Bystanders would have perhaps thought that a big movie star had made an appearance at Terminal 3. But the expanding crowd and the rousing cheers were reserved for a politician. At 10:50 am, Narendra 'Bhai' Modi set foot in New Delhi as the country's prime minister-elect. As he walked out of the airport towards a cavalcade, waiting to take him to the BJP headquarters in central Delhi, Modi, dressed in a crisp blue kurta, exuded a hero's glow.
More than a thousand BJP workers, most wearing saffron Gandhi caps and many donning Modi tees, had been waiting for the man of the hour. The minute Modi stepped out of the airport, crowds thronged and dashed to get a glimpse of him; the waved their arms, breached barricades and chased the Scorpio that took him to the party office. The frenzy at the airport caused a traffic jam that took nearly an hour to clear.
Supporters and billboards line most of the 30-km stretch from the airport to 11 Ashoka Road. Standing under the summer sun, the supporters wave out; the banners welcome Modi, saying: "Modiji aa gaye hain, acche din saath laye hain." Autos that have ripped out their roof blare Modi songs set to the tunes of popular Bollywood numbers and bhajans. And lending the atmosphere a holy touch are people dressed as divinities — Lord Shiva, Laxmi and so on — dancing atop open trucks.
At 11 Murti Marg, where stands Delhi's iconic sculpture depicting the Dandi March, posters of Ramdev Baba alongside Modi made an appearance. The yoga guru's supporters, out in sizeable numbers, waved out to Modi. The BJP leader waved right back at them.
But it was at the BJP headquarters where the crowd turned into a sea of supporters. When Modi arrived, palpable excitement gripped the air as people broke out into "Vande Mataram" slogans. Ashish, a 36-year-old excited supporter, beams and says, "He is god for me." A young girl, trying to take a photo of Modi on her smartphone, says, "India's turn has finally come."
Inside, senior party leaders, including Sushma Swaraj and Arun Jaitley greeted Modi. LK Advani even hugged his former protege, an indication that all was well in the party, at least on the surface. Years ago, in the mid-90s, it was in a makeshift accommodation at 11 Ashoka Road where Modi used to stay in when he was just another party worker. The room he stayed in is now demolished but Modi, today, practically owns the office as the party's tallest leader.