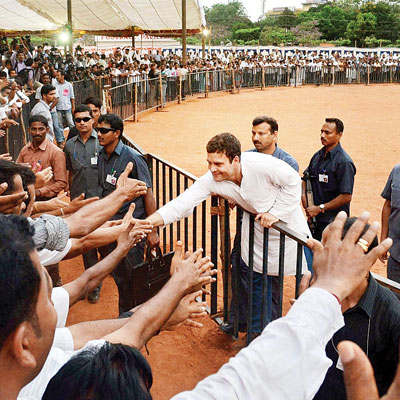 "If Congress comes to power, it will recover every pie of illegal mining from looters and utilise it for welfare of Bellary people. We won't allow looters, who are already in jail, to come out," roared AICC vice-president Rahul Gandhi.
Addressing an election campaign rally in Bellary on Friday, Rahul recalled his family's connection with Bellary and said his mother Sonia had contested as Congress candidate from Bellary on 1999.
"We will intensify investigation over illegal mining and will put all efforts to root out corruption, misdeeds happened in Bellary during BJP's regime in the state. One should not forget that Bellary government ruled whole Karnataka between 2008-2013," he added.
Without taking Narendra Modi's name he said that "they" speak against corruption by allowing BS Yedyurappa to sit their beside. "They never open their mouth over corruption which took place in BJP-ruled Karnataka, Chhattisgarh and Madhya Pradesh states," he said.
Reiterating the Congress' manifesto, he asserted that his party has planned an industrial corridor between Delhi-Mumbai-Chennai-Bangalore to initiate a manufacture revolution in the nation. "This proposal is expected to provide lakhs of employment opportunities for Karnataka youth," he said.
He claimed that his father Rajiv Gandhi laid the foundation for IT revolution that placed Bangalore and Karnataka on the world map.
He asserted that Congress is always for development of poor, tribals, Dalits, minority and weaker sections of the society. "Our government will, as usual, be formed on principle of social justice," he stated.
Regarding women empowerment, he threw the ball in BJP's court saying they are not allowing parliament to pass the women's reservation bill.
Before his address, chief minister Siddaramaiah warned people that if BJP comes to power, it will definitely release Janardhan Reddy from jail. "Sriramulu and BJP fought like street dogs and now have joined hands," he said.
Ignoring public opposition from Swaraj, BJP has admitted B Sriramulu — a one time close associate of Reddy brothers — into the party and fielded him as its candidate for Bellary, now represented by his sister Shanta.
At a rally in Mangalore, Gandhi hit out at Modi's "Congress-mukht Bharat" slogan, saying, "They say Congress should be eradicated from India. Congress is a thought and an ideology that is very old. This ideology cannot be eradicated from India. One who wanted to eradicate it, they have been wiped out."
Gandhi also said Congress wants to play the politics of love and brotherhood and defeat the political party playing politics of anger.
"They make a Hindu fight against a Muslim and a Christian. They also make people of Karnataka fight against Maharashtra. They want to see people from Uttar Pradesh and Bihar out of Maharashtra. In Mangalore, they beat women," he said.
The Mangalore remark was in the context of the 2009 attack on several girls at a pub allegedly by activists of right wing outfit Sri Ram Sene, known for its notorious moral policing.