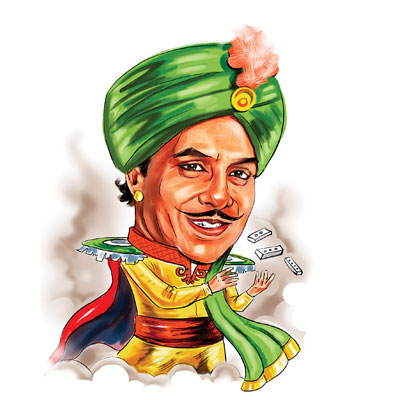 Legend has it that PC Sorcar Jr was once denied entry into Sathya Sai Baba's lair. But hell bent on calling his bluff, Sorcar gained entry in disguise, and when Baba miraculously produced a sondesh, the magician came up a rasagulla from thin air.
Sorcar is perhaps one of the few enigmatic figures in Bengal, seen dressed in a robe and feathered turban even off stage and a permanent smile pasted below a twirled mustache on his glowing face.
The son of the country's first magician-showman, Protul Chandra Sorcar, Junior was thrust upon the stage unexpectedly at the age of 25 when his father died of a heart attack onstage in Hokkaido, Japan.
"The show must go on," his father had told Sorcar Junior before breathing his last that day, more than 40 years ago. The show has since continued, growing bigger each day, with new tricks, better technology and contraptions, in and outside India.
But for the last few months, Sorcar's audience has changed as has his stage. In his new avatar as a BJP candidate from Barasat Parliamentary constituency in West Bengal, Sorcar Junior isn't complaining. In a constituency covering areas just north of Kolkata, Sorcar doesn't see much difference between his audience and his voters.
"And don't forget, I have a doctorate in applied psychology. I can read people's minds, or even of groups of people," says Sorcar Junior.
But enthralling a hall full of audience is not the same as winning over a constituency of voters. More so, if you have a formidable opponent in the form of Kakoli Ghosh Dastidar of the Trinamool Congress. In 2009, Dastidar had snatched the constituency from Left ally Forward Bloc with a margin of over 1.22 lakh votes.
And his anxiety is telling. During the early days of campaigning he was criticised for describing Trinamool chief and West Bengal chief minister Mamata Banerjee as deranged. Dastidar had complained to the Election Commission for his alleged "derogatory remarks," prompting the district magistrate to file an FIR against him.
Sorcar Junior has so far been a diligent campaigner, taking the troubled path of reaching out physically to most households in his constituency that includes the upmarket Salt Lake City and the upcoming satellite township of Rajarhat. Salt Lake is a retirees' paradise where many former bureaucrats and IPS officers reside, a population that is widely seen as BJP sympathisers. If Sorcar can successfully convert them into BJP voters, it could well be his most successful trick, said a party insider.