Nitish stresses on 'maximum unity' as Mulayam flexes political muscle.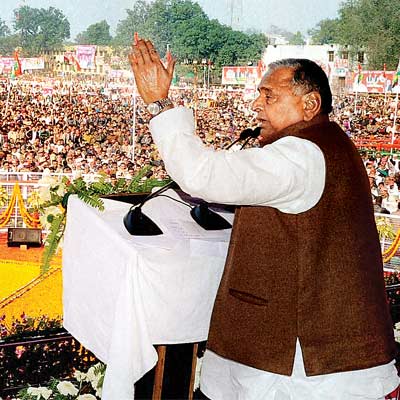 The Left parties may have lost relevance in their bastions, but they have emerged as major wheeler dealers in cobbling up a third block, independent of the BJP and Congress in the run up to the Lok Sabha elections. Even as the alliance seems be to be shaping up, initial fault lines are also visible, while experts call it an opportunistic move.
JD(U) in Bihar is looking at the Left parties for a pre-poll alliance. JD(U) MP and spokesperson K C Tyagi tod dna, "We are in talks with CPI and CPM in Bihar to arrive at a seat sharing agreement. A decision is likely to be taken by the end of the week." Tyagi did not disclose how many seats is the party offering to the Left front in the state.
In Tamil Nadu, the Left has sealed a pact with AIADMK – a development that irritated Mulayam Singh Yadav. Enough to prod him to throw his weight around as kingmaker. At a rally in Gonda district in Uttar Pradesh, Yadav reminded the frontrunners of the alliance that there could be no government in New Delhi without his support. Flexing his political muscle, he said, "Jayalalitha is fighting for 40 seats but SP is fighting for 80 seats." Yadav urged the youth to ensure party's win in more seats this time round. In the current Lok Sabha, SP has 22 seats and AIADMK has nine.
In Patna, Bihar chief minister and JD(U) leader Nitish Kumar, who is working for building a third front of parties, claimed that there was no chance for either the BJP or Congress-led alliance to come to power.
He said, "In these circumstances, formation of a grouping of anti-Congress and anti-BJP parties will be significant in the coming Lok Sabha elections. There were 'functional problems' in forming a separate grouping of non-BJP and non-Congress parties in parliament but efforts would be made to forge maximum possible unity."
"It's known that in West Bengal, the Trinamool Congress and the Left cannot come together. Similarly, in Uttar Pradesh SP and BSP are loggerheads with each other," Kumar said. "Our efforts will be to forge maximum possible unity among parties on common issues while parties will maintain their separate identities," he said.
Experts, meanwhile, say that cobbling up the third front is just an initiative by those leaders who have failed to achieve certain things and would like to remain relevant in the election season.
Political commentator Urmilesh told dna, "The elections have come and the leaders have to prove themselves relevant. Nitish Kumar had been eager to forge an alliance with Congress. His advisors had been in touch with the central cabinet leaders. Now that Congress has allied with RJD, Kumar has overnight taken a stand 'based on principles'. On the other hand, social justice leadership has also exposed itself."
"The front has not yet come out with any alternative for the country's economy. It is a move full of political opportunism," he added.
Urmilesh though cautions that the front may become a little relevant in case of a fractured mandate. "In that situation, it could play a vital role in stopping the saffron brigade as parties may gravitate towards it."
Meanwhile, the crucial meeting of JD(U), CPI(M) and Samajwadi Party which was to be held in Delhi on Monday has be deferred by a day. On February 5, JD (U), AIADMK, the Asom Gana Parishad, the Jharkhand Vikas Morcha, the Samajwadi Party, the JD(S), and the four Left Parties will meet in New Delhi. Biju Janata Dal leader and Odisha chief minister Naveen Patnaik have also agreed to participate.
—With inputs from agencies