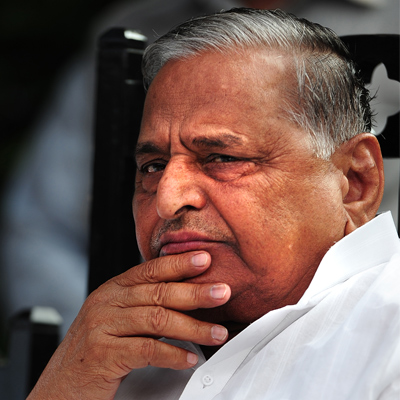 Samajwadi Party chief Mulayam Singh Yadav on Saturday claimed a Third Front government would emerge as the "strongest possibility" after declaration of Lok Sabha election results.
Addressing an election rally in Allahabad, he said "voters must not get deceived by those who say that only UPA or NDA could form a government at the Centre and hence supporting Samajwadi Party in Lok Sabha polls would be a waste of votes.
"It must be kept in mind that two-thirds of the total number of states in the country are ruled by parties which are neither with Congress nor with BJP", he said. "These parties can certainly come together and form the next government in the state. The Third Front will emerge as the strongest possibility after the election results are out", Yadav said.
He said "needless to say, Samajwadi Party, being the leading player in the largest state of Uttar Pradesh, will play an important role in such a formation".
Yadav questioned the ban imposed by the Election Commission on his party colleague Azam Khan in the wake of his alleged inflammatory speeches at a number of election rallies and said "what is wrong in acknowledging the contribution of Muslim soldiers in the Kargil war? Was not Abdul Hamid, a glorious son of Uttar Pradesh, posthumously awarded the Param Vir Chakra after he attained martyrdom in the 1965 war?", the SP chief said.