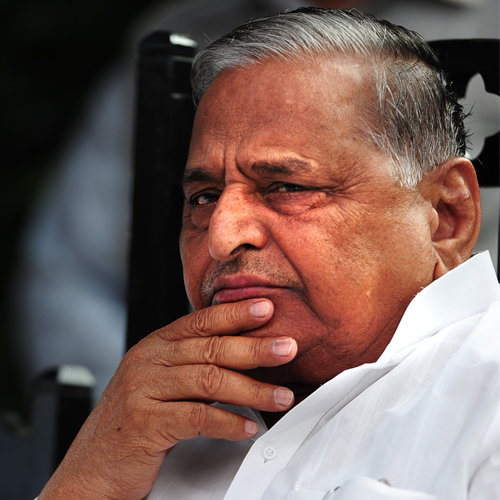 The last phase of elections in Uttar Pradesh is scheduled for May 12. The filing of nominations April 17 and will go on till April 24.
While the BJP's Narendra Modi, the AAP's Arvind Kejriwal and the Congress's Ajay Rai are contesting from Varanasi, Samajwadi Party (SP) supremo Mulayam Singh Yadav is running from Azamgarh.
Ajay Rai has already filed his nomination whereas Kejriwal and Modi are expected to do so on April 23 and 24 respectively.
Mulayam Singh Yadav on the other hand is filing his nomination on Tuesday, April 22.
On his way to Azamgarh from Babatpur airport, he addressed journalists and party members and said there is no such thing as a Modi wave in the country. Yadav added the BJP is just using Narendra Modi. If he wins the elections, the party members themselves won't let him become prime minister. The internal conflicts within the BJP will end Modi's career.
"If Modi thinks contesting from Varanasi will help create a positive image for the BJP in the Purvanchal states, it is his misconception. Here, voters are aware of what will work in their favour and what will not. It isn't that easy to manipulate them," Yadav said. "The fight in Varanasi is chai-wala versus paan-wala." He also added that the so-called balloon that is floating with the Modi wave doesn't have any air. There is no Modi wave.
Mulayam Singh Yadav asked SP members asked to unite against Modi so that he doesn't win a single seat in Purvanchal and has to return to Gujarat. He reassured the party members and said, "Our candidate will win by such a huge margin that Modi's bail will be forfeited. But that will be decided on May 16."
Until then, the war of words in Purvanchal continues.
Saiyed Faiz Hasnain reports for Iamin.in, India's hyperlocal news network.