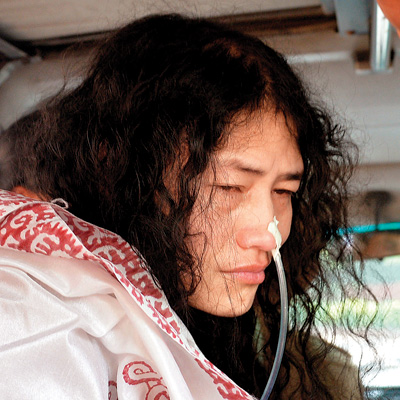 Thirteen years after Irom Sharmila, then 31, started a spontaneous hunger strike after she saw Assam Rifles jawans randomly gun down nine people in a bus stop about 9km from Imphal, the life of the celebrated protester who has been in custody since then has taken a surprising turn. A Manipur court ordered her release from custody saying there is no reason to believe that she wanted to commit suicide.
The 13-year hunger strike against the Armed Forces Special Powers Act (AFSPA) which gives unlimited powers to armymen to raid and even kill on mere suspicion has made Sharmila the symbol of liberty and democracy worldwide. Her singular poignant strike has posited the state against the people of Manipur who say that the army has played havoc with their lives using the act as cover. Over the years the army has resisted moves to revoke AFSPA from terrorism-affected states in the North East and Kashmir.
Sessions judge A Guneshwar Sharma passing the judgment on a petition filed by Sharmila said the prosecution had failed to establish Section 309 (attempt to suicide) case on Sharmila. A case under this section was earlier slapped on her by the Manipur government.
The court said the charge of attempt to commit suicide was wrongly framed against Sharmila. It is just an allegation that she wants to commit suicide and hence, she can't be kept under arrest and should be released immediately.
"From her past conduct, it seems that she may continue with the fast till her demand is met politically by the government. In the circumstances, the state government may take up appropriate measures for her health and safety, such as nose-feeding etc, in case she decides to continue with her fast".
The development now leaves the Manipur government with the option of moving a higher court.
The family of Sharmila has welcomed the court order. "We welcome the court verdict and we feel good about it. But she will continue with her fast even after release. She won't come home and instead go to the temporary office of Meira Paibis (women's body) for the fast. In that case, she will be re-arrested again," Singhajit, Sharmila's brother, told dna
"It's a moral victory; for we have always been saying that hers is a political process and not a criminal act and therefore, should be dealt with politically," activist Babloo Loitongbam of Human Rights Alert said. "Instead of criminalising her protest, the government should find ways and means to address her demand."
The 43-year-old Sharmila has been kept under house arrest and is nose-fed at a government hospital in Imphal that has been converted into a jail for her.
Sharmila's hunger-strike began on November 2, 2000, at Malom near Imphal soon after the random shooting. The victims included a woman, aged 62, and a 1988 National Child Bravery Award winner.
Sharmila began her fast within hours of the incident in protest. She was arrested by the police three days later and charged with an "attempt to commit suicide". Subsequently, she was remanded in judicial custody. As her health deteriorated rapidly while under arrest, nasogastric intubation was forced on her to keep her alive.
She had been released every year and then re-arrested a day later under Section 309 for going ahead with her fast. The law says that a person who "attempts to commit suicide... shall be punished with simple imprisonment for a term which may extend to one year or with fine, or with both".
She is a recipient of awards including the Gwangju Prize for Human Rights, Mayillama Award of the Mayilamma Foundation, Rabindranath Tagore Peace Prize of the Indian Institute of Planning and Management among others.
Nowhere in the world has one women staged such a silent and defiant protest for so long against what she calls the tyranny of the State.