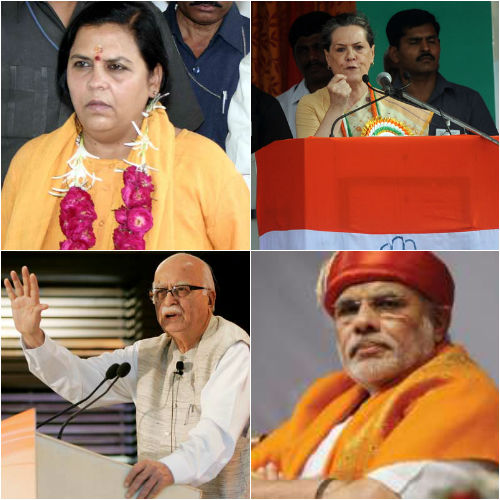 Elections in the World's largest democracy—India have commenced with much fanfare as electorates are spoilt for choice in terms of candidature and parties in the offing. But, when it comes to quality, none of the parties have been able to offer much and the much publicised NOTA (None of the above) has come into force as a way to offer 'rejection' choice to voters.
The elections of 2014 have already covered six phases and even the seventh phase voting is over from 89 seats. Though two major phases with major number of constituencies are over, the seventh phase still holds key to balancing the electoral tally and is a big day for many politicians who are contesting from various seats.
While Narendra Modi kick-started the seventh phase by casting his vote and flashing the controversial 'Lotus' symbol and drawing Election Commission's ire, the relevancy of seventh phase has many parameters.
Leader-stature: Many senior BJP and Congress leaders are in the fray as far as the seventh phase is concerned. From Rajnath Singh, LK Advani, Arun Jaitley to Congress' president Sonia Gandhi. Many senior leaders and their fate lies in the electoral ballots.
* Sonia Gandhi- Congress president Sonia Gandhi is contesting from Rae Bareili which is a traditional Congress seat. Holding this key constituency is critical for the sexagenarian as the party is trying to battle the 'Modi' wave on grounds of anti-incumbency and political disarray.
* Rajnath Singh: BJP leader and Narendra Modi's aide Rajnath Singh is contesting from Lucknow which is a predominantly a Muslim community dominated city and there is a strong anti-BJP sentiment among the community on grounds of 2002 Gujarat riots.
BJP will get full majority in Lok Sabha polls: Rajnath Singh
* Arun Jaitley BJP's senior leader Arun Jaitley who has been campaigning in Amritsar is BJP's candidate and a bevy of stars have paid a visit to campaign for him. From cricketer Gautam Gambhir to Bollywood's Kirron Kher and Vivek Oberoi and Santoor maestro pandit Shiv Kumar Sharma, the list of support for BJP candidate Arun Jaitley goes on from all quarters. Even BJP's Prime Ministerial candidate Narendra Modi visited the state and constituency.
* Narendra Modi: BJP's Narendra Modi is contesting form two seats i.e Vadodara and Varanasi. While Varanasi has been converted into a battle-ground with triangular war between Congress' Arun Rai, AAP's Arvind Kejriwal and Modi, the hometurf of Vadodara remains equally important. If Modi manages to win from Vadodara, his command in Gujarat will remain strong and safe—a state where Congress has not been able to secure majority for long.
* Uma Bharti: BJP leader who is known for her love-hate relationship with BJP's prime ministerial candidate Narendra Modi has been fielded from Jhansi by the party.
After rumours surfaced that Bharti would be contesting against Congress leader Sonia, Bharti came out and clarified, "I am thankful to Baba Ramdev for the proposal. But I cannot leave my Jhansi."
Rahul Gandhi is failing, so Priyanka Gandhi in campaign trail: Uma Bharti.
* LK Advani: In 2014, despite being a senior leader of the BJP, Advani had to step aside to make way for the new prime ministerial candidate, Narendra Modi. Despite facing several problems with other leaders within the party, Advani chose to stay on, unlike another senior leader, Jaswant Singh, who quit. Advani even agreed to contest the 2014 general elections from Gandhinagar, Gujarat, though it was initially against his wishes.
* Madhusudan Mistry is representing Congress from Vadodara and competing against BJP's prime ministerial candidate Narendra Modi. His candidature is important for two reasons
1. Congress is trying to make inroads into BJP's domain in Gujarat
2. He is facing a stiff battle against Narendra Modi
Other prominent leaders in the fray include Captain Amrinder Singh, Harsimrat Badal and Chandrashekhar Rao.
Besides the leaders, numerous prominent locations and constituencies are part of the seventh phase. The most crucial being Kashmir and the recently bifurcated Telangana. These assembly elections were the first for the state. As many as 28.1 million people are eligible to votes in 119 assembly and 17 Lok Sabha constituencies spread over 10 districts of Telangana, which is witnessing the first election after the bill for separate statehood to the region was passed in parliament. As Telangana will formally become a separate state June 2, the Election Commission is holding the polls in undivided Andhra Pradesh, which is now under President's rule.
After the formation date, the elected legislators will be allotted to their respective states - Telangana and Andhra Pradesh. Hence, voting in Telangana will decide if the Congress tactic to divide worked or TRS and BJP will manage to dent Congress' hold in the state.
In totality, Corruption, unemployment, rising inflation, women's safety and national security have taken center-stage in these elections. Hence, Congress has a tough task ahead to basttle not only Aam Aadmi Party (AAP) and BJP but also its core election seats.