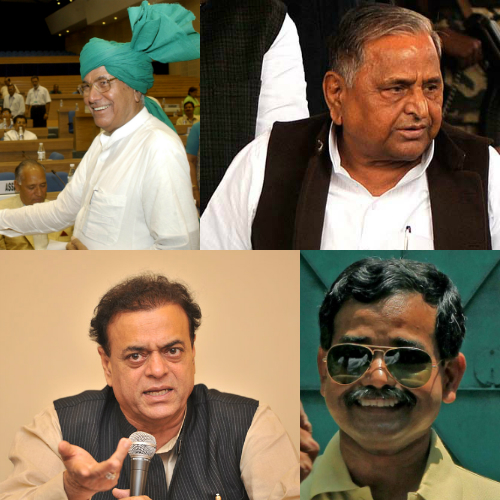 The recent gang-rape and murder of two Dalit girls in Badaun in Uttar Pradesh has received outrage from all quarters. But what stirred major controversy were comments by UP chief minister Akhilesh Yadav who seemed reluctant to take responsibility for the situation.
On being asked about the law and order situation in the state in the backdrop of the Badaun rape and murder case and the Azamgarh gang-rape incident, Yadav commented, "You are safe, aren't you."
However, Yadav's comments aren't isolated instances.
It hasn't been very long since senior politician Mulayam Singh Yadav invited trouble for himself with his sexist remarks on rape and women. Yadav just made rape sound so minor an issue with his comment, "rape ke liye phansi pe chadha diya jaaega? Ladke, Ladke hain, galti ho jaati hai". He also further made a statement that if his party (Samajwadi party) came into power, he would scrap the new anti-rape law which demands hanging of the accused for the heinious crime.
And within 48 hours of Mulayam's comments at an election rally, Abu Azmi another prominent leader from the same political party followed suit adding on to Yadav's comment at an interview with the Mid-Day saying that, even the rape victim should be punished. He also said that women having physical relationships with men (even consentual) should be punished. He in fact even took reference from his religion saying, "Rape is punishable by hanging in Islam. But here nothing happens to the women, only to men. Even the woman is guilty."
Post the Delhi rape case, Abu Azmi had agreed with RSS chief Mohan Bhagwat's comment that, 'rapes take place in cities and not in villages' and said that, "Women should refrain from venturing out with men other than their relatives. Such incidents happen due to the influence of western culture and women wearing less clothes."
The Home Minister of Madhya Pradesh, Babulal Gaur, also joins the club with his remark claiming that the rate of crimes against women depended on the how completely dressed they are and how regularly they visited temples. He said that rapes in the state of Chennai were comparatively less as their women are always completely clad and visited temples regularly.
One of the worst comments ever made was by former Haryana chief minister Om Prakash Chautala who agreeing to the Khap panchayat leader said that 'child marriage' was a solution to rape and other atrocities against women.
It is not just the heinous act of rape that they trivialise with their comments they also target women who stand for themsleves. In 2012, Congress spokesperson Sanjay Nirupam stirred controversy while calling the then National Secretary of the Bharatiya Janata Party, Smriti Irani a 'thumke waali'. It was not only cheap but also undermined the status of empowered women.
Former Mumbai police commissioner Satyapal Singh made a slip-up on national television saying, "We have to strike a balance. One one hand you want to have a promiscuous culture and on the other hand you want a safe and secure environment for the people."
And when the nation was filled with complete angst post the Delhi gang rape case in 2012, Abhijit Mukherjee, the then MP from Jangipur and son of the president Pranab Mukherjee called the female protesters 'dented and painted'.
Not only renowned politicians of our country but also spiritual leaders have in the made their mark in accusing women for rape. Asaram Bapu in the past had made a comment saying the raped is equally responsible for the crime as the accused. Jitendra Chhatar, a khap panchayat leader, blamed the consumption of 'chow mein' for rape.
It is not only men but there was also a woman to join in the list of people making insensitive remarks on rape victims, Maharashtra State Women's commission member Asha Mirje said at an NCP women's meeting, "Did Nirbhaya really have to go to watch a movie at 11 in the night with her friend? Take the Shakti mills rape case. Why did the victim go to such an isolated spot at 6 pm?
It is shameful how in a country where politicians boast of women empowerment, they themselves talk down on women, holding them responsible for crimes against them. It is even more worse when some of the women also indulge in the same blame game.