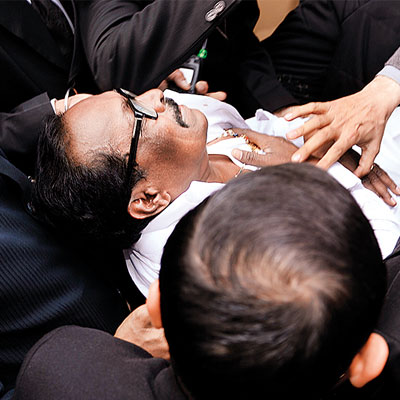 The unprecedented drama that witnessed use of a pepper spray carried often by women for self-defence by an MP and brandishing of knife by another MP on Thursday had started unfolding even before the Lok Sabha formally began its session. The expelled Congress MP Lagadapati Rajagopal aimed the spray at speaker Meira Kumar and home Minister Sushil Kumar Shinde to stall the introduction of the Telangana Bill brought in a surprise without notice.
Even, though government in its wisdom had neither circulated the Bill to MPs, not had listed it in the agenda paper, MPs knew it may be introduced as supplementary agenda. Anticipating trouble, parliamentary affairs minister Kamal Nath in a clear case of floor management that went skewed had called a meeting of Telangana MPs belonging to Congress in his parliament office. Home minister Sushil Kumar Shinde was also present at the meeting, at around 10.15 am.
Kamal Nath choose young and well-built MPs both from Telangana and from other parts like Lal Singh from Udhampur, cricketer-turned-politician Mohammad Azharudin, Mumbai MP Sanjay Nirupam, cine star Raj Babbar, young brigade Arun Yadav, Manik Tagore, Vijayashanti, Ashok Tanwar and positioned them on strategic locations.
They were told to protect and not allow any member to walk near speaker and Shinde. This was necessitated as the speaker earlier in her chamber had declined the ministers' request to call in marshalls and bodily lift the 25 Andhra MPs.
Kamal Nath had taken cue from what the MPs opposing Telangana had done during the rail budget. Though Mallikarjuna Kharge could read out the budget, he at least could table it.
At the meeting, the MPs were clearly told that Shinde has to be protected and he needs just a couple of minutes for introduction. They had brief to use muscle power to prevent anybody walking towards the front row.
And what happened when the bill was tabled was unprecedented. But the drama did not end here. When the House reassembled at 2 pm, and the speaker was reading names of 18 MPs, who were suspended for unruly behaviour in the din, K Narain Rao, an MP from Machilipatnam, Andhra Pradesh fell in the well of House. He had suffered a mild heart attack. And when he was attempting to take a tablet, everybody around was preventing him to do so, mistaking it for some poisonous substance.
News channels even started flashes that the MP attempted suicide inside the House, little knowing the poor MP had suffered a heart attack and was trying to revive himself by taking emergency medicine. He was bodily lifted and put in an ambulance. Three ambulances had been kept waiting just outside the speaker's office. Earlier in the morning, it had transported seven MPs, who were suffering headache and nausea due to pepper gun smoke.