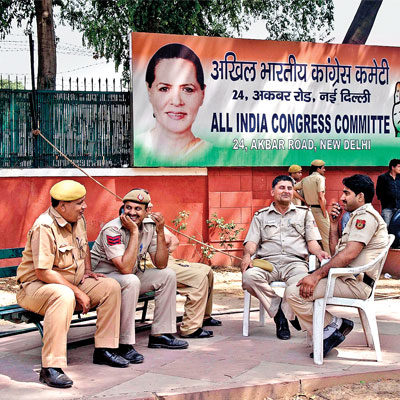 Passive or passionate, inert or incisive. Just what kind of an opposition will the Congress be as it returns to the opposition benches after a decade? The answer will determine the tenor of politics in the next five years and, if precedence is anything to go by, the dispiritedness of the Congress campaign is more than likely to spill over to the Lok Sabha.
It's a story of contrasts, say political observers as they recall the repertoire and wit of Atal Bihari Vajpayee when he was leader of the opposition. Scenes of him arriving in parliament on a bullock cart to protest the rise in petroleum prices reflected the creativity and imagination that an effective opposition needs to highlight issues of national importance.
So the Congress has to have an historic change of mindset and convince itself that it can be in the opposition after all.
Party spokesperson Abhishek Manu Singhvi's assertion on Friday that the Congress will play the role of a "constructive opposition" has not bolstered much confidence. Barring the periods from 1977-80 and 1989-90, when it was led by Indira Gandhi and Rajiv Gandhi, theparty's performance as opposition in the Lok Sabha has been dismal.
In the 13th Lok Sabha - from 1999 to 2004 - when Sonia Gandhi became leader of opposition, the Congress failed to take on the National Democratic Alliance (NDA) except during the defence pay-off scam unveiled by Tehelka magazine in 2001. It was the first time that it had taken the lead in disrupting the house and enforcing adjournments. The coffin gate scandal - the purchase of overpriced and substandard bodybags during h Kargil war -- and the boycott of then defence minister George Fernandes was initiated by the Left parties, which had 42 MPs in the house and forced the Congress to join them.
The only other time the Congress showed its opposition fangs was when it forced the government to review its plans to send troops to Iraq to join the US-led forces during Gulf War II in 2003.
Also recall Congress president Sonia Gandhi's debut in the Lok Sabha as the opposition leader in 1999. She had a prepared text of her brief speech to congratulate G.M.C. Balayogi on getting elected unanimously as speaker, It was quick job, done in four minutes as she read out from five A-8 sheets of paper. Her estranged sister-in-law and BJP leader Maneka Gandhi, who was sitting on the back benches, was seen mimicking her and cracking jokes as Sonia Gandhi promised the speaker the "fullest cooperation" and looked forward to "dignified debates" under his leadership.
"The opposition's main role is to question the government of the day and hold it accountable to the public. For that a leader of opposition needs to have his wits around and be ever alert. He or she cannot afford to bank on aides to send slips to raise issues and question government actions," says V. Rajamani, a veteran journalist, who has been covering parliament for 35 years.
Sonia Gandhi, who took on the job of leader of opposition in 1999, realised her shortcomings and gave a free hand to Priya Ranjan Dasmunshi, Shiv Shankar and Jaipal Reddy to do her job.
Fast forward to 2014 when most Congress stalwarts, including Kapil Sibal and Sunil Shinde, have been routed. Will Rahul Gandhi, who led the campaign, be leader of opposition or will his mother take over the job?
That is still a matter of some speculation. But Congress leaders admit that they have to still learn the rules of playing opposition. Unlike the BJP, they will not indulge in disruptions and forced adjournments,
said a party insider. Outgoing union minister Jairam Ramesh said the party will back major tax reforms. He criticised prime minister elect Narendra Modi for blocking the general services tax (GST), which is
aimed at easing doing business, raising revenues and boosting growth.
"If the people of India want us to be in the opposition, we will not do what Modi did to us on GST; he single-handedly derailed the most important economic initiative of (our government)," he said.
Other party leaders add that they will lend support to the new government on implementing direct tax code, and legislations on insurance and banking. "We will be waiting to see whether Modi will retract FDI in retail sector as he has promised," said Congress general secretary Shakeel Ahmed. "We are a constructive and not destructive opposition," he said.