The 73-year-old trusted aide of Narendra Modi was a unanimous choice for the chief minister's post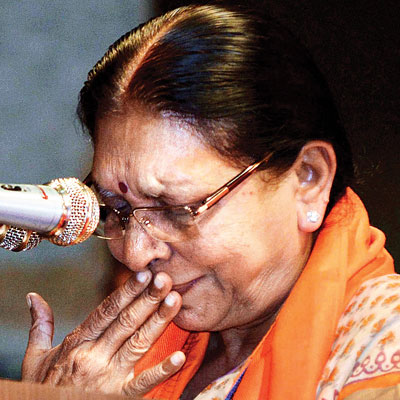 All speculations about prime minister-designate Narendra Modi's successor were laid to rest on Wednesday with the BJP announcing that senior minister Anandi Patel would be the state's 15th chief minister — the first woman to occupy the chair in Gujarat.
The decision, which was very much on expected lines, also brings down the curtain on Modi's over 12-year tenure as the CM.
The 73-year-old — who has been one of Modi's most trusted aides over the years — will take oath as the chief minister on Thursday. The decision announcing Anandi Patel's elevation as chief minister was taken at a meeting of BJP legislators and other party officials at Gandhinagar town hall.
Her name was proposed by education minister Bhupendrasinh Chudasama and seconded by finance minister Nitin Patel, forest minister Ganpat Vasava, BJP general secretary Amit Shah, social justice minister Ramanlal Vora and BJP MLA Hira Solanki. "The decision to elect Anandi Patel as the chief minister was unanimous," state BJP general secretary Vijay Rupani, told reporters.
The CM-designate was surrounded by ministers and BJP leaders, who congratulated her upon her election. She was welcomed on the stage where she was greeted by Modi and other leaders. However, she seemed to have been overcome by emotions in her brief address to the gathering. Tears rolled down her eyes and she choked more than once while speaking.
"The BJP's top leadership and prime minister Narendra Modi have given me a chance to serve six crore Gujaratis," she said, but couldn't complete the sentence.
"I thank you, and express my gratitude towards all of you," she said before choking again.
Regaining composure in a few moments, the new chief minister recalled her humble beginnings by saying how she had completed her studies while working in her father's fields.
"I started as a teacher and have seen problems faced by people from close quarters," she said.
She added that it is not easy for women to succeed in politics, but BJP as a party treats them on par with men. "We will take the Gujarat model ahead, and make sure the state touches new heights," she added.