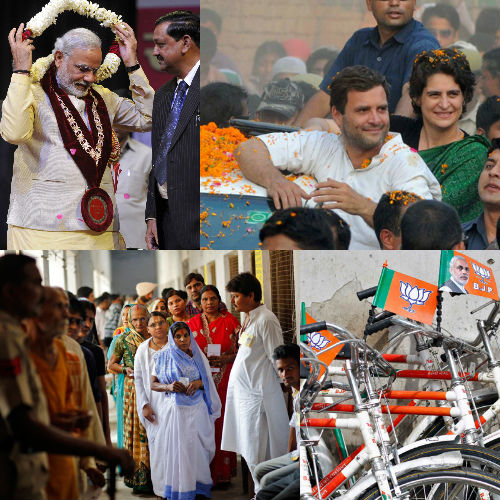 It has been a long hot summer for political parties. Braving the heat and dust of India, they have camped and campaigned across the nooks and crannies of India, cajoling voters, to a greater or lesser degree, on who is the best. At stake - the votes of 830 million Indians, 551 million of whom turned up to cast their vote.
The voter turnout was 66.38%, higher than the last best turnout in 1984 – the elections after Indira Gandhi's assassination that gave Rajiv Gandhi a two thirds majority in Parliament. The Election Commission spent over Rs.3400 crores to ensure that the elections took place in relative peace – there have been aberrations, but in most cases elections in India have been what they always were – enthusiastic turn out by voters to exercise their franchise. In a week's time, the elections will be a distant event, the vagaries of the news cycle mean that something else will take pride of place and sweep the lingering vestiges of these elections and the campaign from our collective memories. For the last time, before the results and the formation of the new Government let us look at the A to Z of the high points of Lok Sabha Elections 2014.
A for Arvind Kejriwal – the giant killer in Delhi. The man who beat Sheila Dixit in her home turf. He and the Aam Aadmi Party have run a high pitched campaign, that should seen more as a marketing activity and a spring board for future elections, rather than having too much impact on elections 2014.
B for the BJP – it ran a great campaign, put out some compelling communication, managed to quell all internal dissent and rallied behind one person and one message.
C for Cash – copious amounts of it went to fight these elections. It is estimated that in the last 5 years, between all polls – local, state and general elections – 150,000 crores has been spent, more than half of it from unaccounted sources. There needs to be a realistic relook at campaign financing norms and rules.
D for Democracy – and from a 66.38% vote, some of them in areas that are considered troubled, it is evident that Indian voters take their Democracy and right to choose very seriously
E for Election Commission – which has done a commendable job on getting voters to come out and vote. However, it has lagged on tackling violations of the model code of conduct.
F for Fake Voters – Despite the EC spending time, energy, money and resources on weeding out fake voters, the problem persisted. The other side of this problem was the fact that many genuine voters found their names left out. There needs to be a more systematic manner of getting a voters list made up of genuine voters.
G for Giriraj Singh – no one, outside his immediate circle, had heard of him two months ago. Suddenly, with a set of irresponsible statements he is a poster boy for the extreme right, and a dart board for the rest.
H for Hooda— the strong man of Haryana. These elections are going to test his mettle.
I for Indian National Congress – The main partner in the ruling alliance. Facing anti incumbency after 10 years, and accusations of corruption and hubris, the Congress campaign looked rather tired and jaded, and lacking the punch of that of the BJP. It's media fire was not as much in past years, and it looked out of synch with itself and the voters.
J for Jayalalitha – the boss lady in Tamil Nadu. The question is how many seats in the state will she be able to deliver.
K for Kashi, Benaras, Varanasi – not just the oldest living city in the world, but also the site of the most intense election activity in the modern Indian republic.
L for Left – although it still makes noises as though it was a national presence, the fact remains that it is no longer relevant.
M for Mayawati - the lady did not receive much media coverage this general elections. However, it did not prevent large numbers of people from turning up for her rallies. The big question is whether the turnouts translate into votes.
N for Narendra Modi – the star of this election. His campaign was gruelling, his stamina astounding. He and his party has pulled out all stops in their attempt to form the next Government.
O for Opinion Polls – in India have traditionally got it wrong. But, this time all opinion polls, exit polls indicate a change of regime at the centre. Would they finally get it right, and by what margin?
P for Priyanka Gandhi – as always, she came, she spoke and diverted attention of the media to her style, and her resemblance to Indira Gandhi.
Q for Queues of voters turning up to cast their votes. Nothing restores your belief in Indian Democracy as much as citizens, especially in troubled areas, queuing up at the polling both to reassert their belief in democracy and the Indian republic.
R for Rahul Gandhi – He led the Congress campaign from the front. It will be interesting to see what results day has in store for him.
S for Smiti Irani – who has taken on Rahul Gandhi from Amethi, giving him his first possible election fight in the constituency.
T for TMC – seems to be following the path of the earlier left government in West Bengal, using the same tactics to bully, batter and unleash violence against opponents.
U for Universal Franchise – the right of all citizens to vote. Elections are the only time, in India, when the richest person in the country and the poorest voter have equal weightage in terms of choice
V for voters – that time in 5 years when the voters are wooed by all parties.
W for Winner takes all – in a first past the post system, it doesn't matter whether you win by 1.
X for the spot where we vote – replaced by the EVM button.
Y is you the voter – and I, and the choices we make.
Z for Zero – who will be a hero, who will be a hero – ultimately all of it is a part of the greatest game of them all – the elections.
(The writer is Head Digital Content, Zee Media Corp and tweets @Calamur)