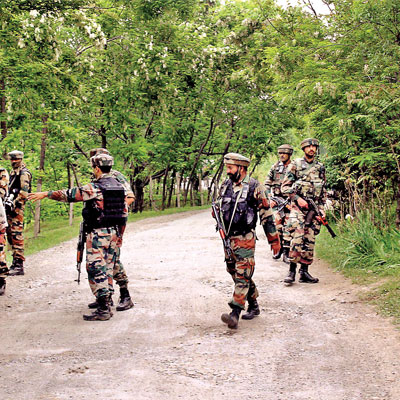 Tension has gripped the Line of Control (LoC) after suspected Pakistani Border Action Team (BAT) attacked the Indian army patrol leaving one sepoy dead and two others injured at Akhnoor sector in Jammu division on Sunday.
Elsewhere, militants attacked the army search party and killed a solider and injured three others in Budgam district of Central Kashmir on Monday.
The first incident occurred in Akhnoor sector when "unidentified armed personnel" from across the Line of Control attacked the Indian army patrol killing one jawan and injuring two others.
"A patrol of the army was targeted by a group of unidentified armed personnel near Akhnoor using mines and small arms fire. Own alert troops returned effective fire and the group fled back towards
Pakistan army post across the LoC. In the ensuing fire fight sepoy Bhikale Uttam Balu was martyred and two soldiers suffered splinter and gunshot wounds," said a defence spokesman at Jammu.
The sepoy belong to 2 Maratha Light Infantry.
It was not known whether the group of infiltrators suffered any casualty while fleeing towards Pakistani army posts on the LoC.
However, the Indian army has recovered Pakistani made mines and other equipment during search operation which points at Pakistan's direct hand in this attack.
"Search of the area yielded Pakistan made mines, and other equipment which clearly suggests involvement of Pakistan and terrorists from across the line of control," the defence spokesman said.
This was the first such incident on the LoC after Narendra Modi-led National Democratic Alliance won the general elections in the country.
In a separate incident, militants hiding at Qasbanagum village in Budgam district attacked a search party killing one soldier and injuring three others on Monday.
"Based on the specific intelligence about the presence of terrorists in general area Qasbanagum in Budgam district, a joint operation was launched. When the troops were establishing the cordon, the
hiding terrorists fired on them causing one fatality and injuries to three jawans. The operation is still in progress," said Lieutenant Colonel NN Joshi, defence spokesman at Srinagar.