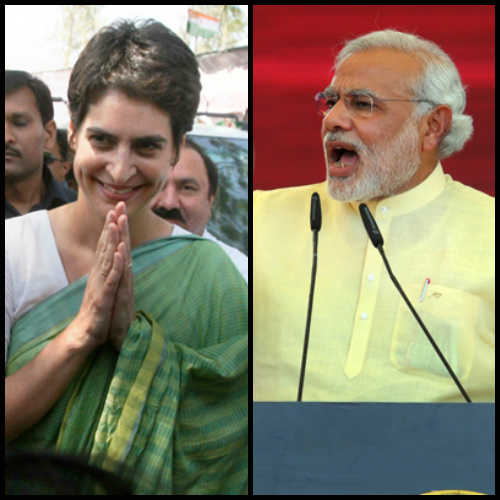 Ever since Congress brought in Priyanka Gandhi to campaign for Rahul Gandhi at Amethi to counter the BJP's Narendra Modi, the war of words between the two have intensified. While Modi had targetted both Sonia and Rahul Gandhi at various occasions during his speeches, Priyanka Gandhi rebutted Modi's claims of 'Gujarat model of development'.
Below is a list of things that Priyanka Gandhi Vadra spoke about BJP's Prime Ministerial candidate Narendra Modi:
—"I read in newspaper there is a leader from a political party who says 'yeh dil mange more'. He is asking for it again and again. He does not get tired"--On Narendra Modi's reiteration of Kargil martyr Vikram Batra's last words.
Read: Priyanka Gandhi's attacks have unnerved Narendra Modi: Congress leaders
—Battling on Rahul Gandhi's behalf, Priyanka Gandhi took on Narendra Modi over his 'shehzada', "namuna" and other barbs at her brother, saying the BJP leader is aspiring to be prime minister but indulging in "childish" behaviour and that he should maintain decorum.
"They call him (Rahul) 'namuna' (specimen). Sometime they compare him to a stand up comedian and sometime they call him shehzada. I think you (Modi) aspire to be a prime minister, then why do you indulge in such childish behaviour? He (Modi) should take maintain dignity."
Read: My father gave his life for his country; cannot be compared to anyone: Priyanka Gandhi on Narendra Modi 'daughter' comment
— "The other campaign is centred around one man and giving power to him. If all power is vested in one person, is that right?" on Narendra Modi's candidature.
—"Why indulge in these juvenile attacks? PM pad ki garima ko toh pehchaaniye" (at least understand the dignity of the chair)," she said while defending Rahul after campaigning ended in her mother Sonia Gandhi's Rae Bareli constituency.
Read: Priyanka Gandhi takes a jibe at Narendra Modi for 'yeh dil maange more' slogan
—I am Rajiv Gandhi's daughter," was Priyanka Gandhi terse reply to purported comments by Narendra Modi that he considers her as his daughter.
—"Mahila sashaktikaran ki baat karte hain. Phir humare phone mat suno. Ek rajneta hain, mahilaon ke saath galat karte hain. Unse bachna hoga. (If you talk of women empowerment, you should stop tapping our phones. There is one leader who wrongs women. Be wary of him)," she said, addressing some villagers, mostly women, in Chadrai village of Unchahar block in Rae Bareli.
Read: Priyanka Gandhi continues to attack Narendra Modi, calls him ''childish''
—While she did not name Modi, Priyanka said such leaders should be thrown out. "When they speak of women empowerment, you should ask them specific questions about their plans for you," she said. "When they refer to women, they refer to them as wife, daughter, mother and sister of someone. I also share these roles in my life, but my real identity is that I am a woman first. You should tell them to recognise you as a woman, as an individual," she said.
Read: Priyanka Gandhi dubs Narendra Modi's attacks 'childish'
—Retaliating to Narendra Modi's RSVP and ABCD jibe, Priyanka Gandhi Vadra on Friday said, "You are not teaching in a school, you are addressing the nation, tell them what you will do." "When you address the people tell them what you will do for them. Don't teach them the English Alphabet like RSVP, ABCD," Priyanka said.
Read: Priyanka Gandhi directly attacks Narendra Modi over snooping scandal
—"Aap kisi prathmik pathshala ko thodi na sambhodhit kar rahe hain.Yeh desh ki janata hai, jise vivek hai (You are not addressing any primary school. It is the public of this country, which is intelligent) on Modi's usage of 'RSVP' term.
Read: BJP takes on P Chidambaram after saying he was not sure if Priyanka Gandhi would accept Narendra Modi as 'father figure'
— "Janata aapke Gujarat ka model bhi samajhti hai, jisme aapne hazaron ekad zameen kaudiyon ke daam apne doston ko di…. Batayein aapke model mein kisan ka kya wajood hai… Mazdooron ki dihari kyun kam hai… Mahilaon ke liye kya hai?," she said while questioning Narendra modi's Gujarat development model.
Read: Amit Shah rejects Priyanka Gandhi's attack on Narendra Modi on snooping scandal
— "Lot of harsh words are used for my family, my husband, I feel sad. I feel sad not for myself but because someone is being defamed and truth is not coming out," on BJP targetting Robert Vadra.
—"My mother wasn't born here, but you'll accepted her. That's the beauty of this country," added Priyanka while talking about Congress and its vision for India.
Read: Priyanka Gandhi attacks Narendra Modi's Gujarat model of development