BJP uses DTH, Android & broadband for unique national simulcast.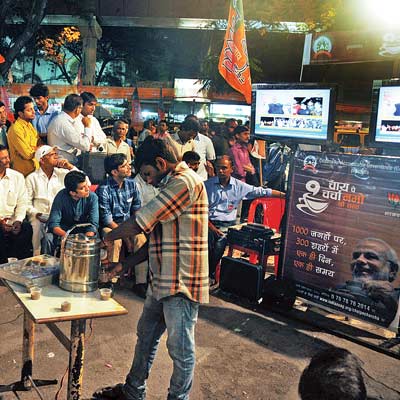 Shashi Bhushan, Sanjeev Devasia & Krishna Bahirwani @dna
New Delhi/Mumbai: At the end of the day, Modi Tea tasted fine, brewed to satisfy just about every taste bud at tea stalls where BJP's prime ministerial nominee Narendra Modi's face lit up specially mounted television screens.
It was a unique public outreach programme — chai Pe charcha — through which Modi interacted over a cup of tea with an estimated 3 lakh people in 300 "cities" across the country.
The concept, brainchild of Citizens for Accountable Governance (CAG), a non-profit group supporting Modi's PM-bid, organised Modi's interaction at 910 tea stalls located in various parts of the country.
CAG combined DTH, Android and broadband internet technologies to link Modi with the common man. Social media played a big role. "The interaction was also telecast," said a CAG spokesman.
CAG deployed a team of 10,000 volunteers and 1,820 people overlooked ground technical support with the help of an 85-member core group that monitored technical arrangements for the interaction. Two television sets at each venue brought Modi to the selected tea stalls. People bought their cups of tea; there was no free tea.
As per initial estimates, the organisers said, over 3 lakh people joined the live interaction with the Gujarat chief minister at tea stalls. "Ground report received during first half of the interaction shows that over 3 lakh people participated and more joined by the end of the programme. The number is expected to cross the 5-lakh figure," said the CAG spokesman. As per CAG, this was one of the biggest interactions of Modi and compared well with his rallies.
Chai pe charcha in Mumbai saw a large response from people at 30 locations across the city. But they were not able to ask questions due to paucity of time and also due to technical glitches. Around 250 to 300 people assembled at each of the locations. Almost all stalls were organised near railway stations and colleges.
"Modi answered questions of people from 22 cities and towns and answered about 40-50 questions for an hour. Later, he addressed those gathered at the locations and the entire programme was conducted for two hours from 6-8pm," said a coordinator of the event for Mumbai.