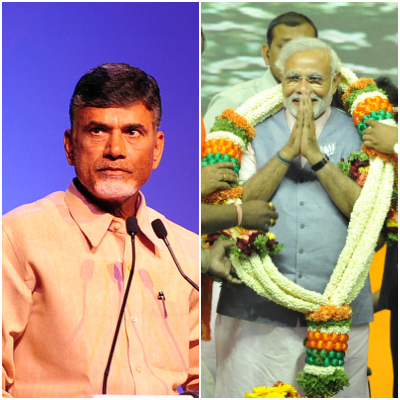 The NDA maybe busy raking in the positivity through the alleged Modi wave, however its pre-poll alliance of 25 strong parties seems to be going through a rough tide.
The Telugu Desam Party- Bharatiya Janata Party alliance, which was sealed on the April 6, seems to be in trouble. President of the Telugu Desam party, Chandrababu Naidu had expressed his happiness at the time of the announcements and had also said that it would be a positive influence on the results of the 2014 Lok Sabha elections.
BJP recently filed for former Union minster D Purandeshwari from the Rajampet area in Andhra Pradesh. Daughter of the TDP founder and former Andhra Pradesh Chief Minister NT Rama Rao, joined the BJP only last month.
However hardly a month into the alliance, the TDP-BJP bond seems to have suffered the evil eye, with deep resentment over the shared seats in the Seemandhra regions of Andhra Pradesh.
The TDP which is in alliance with the BJP, in Telangana, suffered when the BJP announced its candidates for the four Lok Sabha and 13 assembly seats it got in Seemandhra as part of the alliance.
The TDP protested when the BJP chose the candidates, as they believed they were weak as compared to the others in line. They believed that this would affect their results adversely. Even after making their dismay evident, the BJP refused to make any changes. This has evidently irked the Telugu Desam.
Naidu will be meeting the party's Prime Ministerial candidate Narendra Modi and senior party leader Rajnath Singh on Thursday, to sort the differences.
Prior reports have also stated that the TDP President was evidently angry at the nominations of D Purandeshwari, a political rival and sister-in-law. Naidu was also reportedly displeased with BJP's closeness with Pawan Kalyan, who recently launched his own political party.
The recent developments in the disputed land seem to have got the worse of N Chandrababu Naidu. While political pandit's would state that the TDP-BJP alliance is more beneficial to the Naidu led party more than anyone else, events in the recent past seem to be steering the wheel in a different direction altogether.