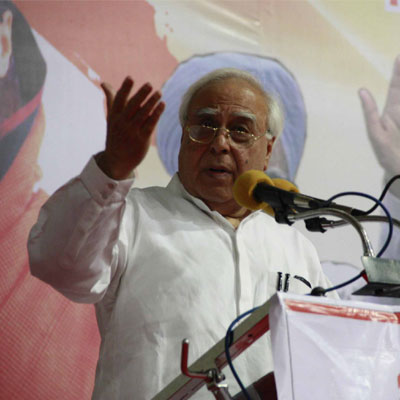 Law Minister Kapil Sibal today said the government would abide by Supreme Court's decision commuting death penalty of three convicts in the Rajiv Gandhi assassination case and termed as politically motivated Tamil Nadu government's move to free all the killers.
"It is clear that their agenda was political, their thoughts were political. They are not against terrorism. Had they been against terrorism, today they would have said no terrorists should be released," he said.
Asked for his reaction about the Tamil Nadu government's decision to release the convicts, he said, "People of India will have to decide who is for terrorists and who is against terrorists, who is for terrorism, who is against terrorism." Sibal also took a jibe at BJP for not uttering a word on the issue while it had bayed for Afzal Guru's blood.
"They (BJP) were baying for the blood of Afzal Guru and I am surprised that when it comes to other assassins, they don't even utter a word. I think BJP has something to answer to," he told reporters, questioning the silence of the Opposition party over the issue.
"Those who assassinated Rajiv Gandhi should not be given any relief; that is the position of the Attorney General. Now the court has rendered a decision. We must naturally abide by it. We may or may not agree with it but we must abide by it," Sibal said.
Guru, who was convicted in Parliament attack case and awarded death sentence, was hanged last year. BJP had raised the issue of "delay" in his hanging, accusing the Centre of being "soft on terror".