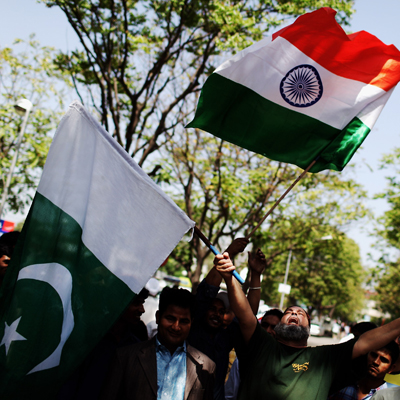 Maulana Mufti Mukarram Ahmed, the Shahi Imam of the Fatehpuri Masjid in Old Delhi said Monday that Pakistan High Commissioner Abdul Basit's invitation to Kashmiri separatist leaders for a meeting on Tuesday should not be a cause for worry.
"See having a dialogue is a very good thing and the relations between Indian and Pakistan should also be good. The Prime Minister too wanted to maintain cordial relations with all the neighbouring countries. Now, whatever the reason is for talking to the separatist leaders, I hope that there will be no hindrance in the dialogue process, and the separatists of India and Pakistan, have to think as to what the people of India and Pakistan want and what will make the people of these two countries happy. We should take the dialogue on those lines. The dialogue is following a particular path and it should follow the same path,"Mukarram told ANI.
Earlier, Congress leader Manish Tewari said: "Pakistan's High Commissioner in India is feting separatists, Pakistani Army is intruding into Indian territory, the ISI and its instrumentalities are attacking our consulate in Herat and this government is deafening in its silence. This is the same government when it was in the opposition, whose face used to turn red and blue whenever there was any provocation from Pakistan. So, why have they gone silent all of a sudden?," Tewari asked.
"And given the fact that Pakistan has ostensibly even eliminated Hafiz Sayeed's name from the 26/11 charge sheet, where is the rationale for going ahead with the proposed talks on August 25 this year, given the background over the past two months. Is the government under some international pressure with regard to Pakistan, and if it is under pressure, then they should come out and very clearly tell the nation as to why there has been a change of stance and a 180 degree U-turn on the government policy towards Pakistan," Tewari added.
The Pakistan High Commissioner to India has invited Kashmiri separatist leaders for talks tomorrow ahead of the August 25 foreign secretary-level talks between India and Pakistan.
Also read:
Congress questions Centre's deafening silence over Pakistan envoy inviting Kashmiri separatist leaders for talks
Locals must have an important say in Kashmir issue: Majeed Memon
Indo-Pakistan bilateral talks cannot resolve Kashmir issue, says separatist leader Shabir Ahmad Shah