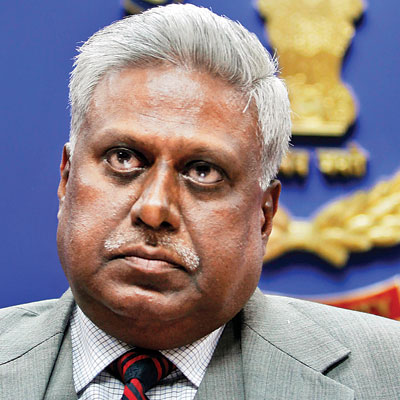 As an impact of dna's news report that top officials of the Anil Dhirubhai Ambani Group (ADAG) have met CBI director Ranjit Sinha at least 50 times in 15 months at his official residence here in Delhi, Sinha was at the centre of controversy on Tuesday with the petitioner NGO, Centre for Public Interest Litigation (CPIL), telling the Supreme Court that visitors' entry register at is residence is "very disturbing" and contains "explosive material" in 2G spectrum allocation scam against Reliance Telecom.
The court then asked CPIL counsel Prashant Bhushan to place the 'explosive material' before it so that it can go through it and examine the issue by Thursday.
"Give the copy of the material in a sealed cover to us as well as to the counsels of the CBI and its director and we will take up the matter day after tomorrow," a bench comprising justices H L Dattu, S A Bobde and A M Sapre said.
Referring to dna story, Bhushan started his submission that he has moved an application before the court seeking a restraint order against Sinha for allegedly trying to derail the ongoing 2G trial against Reliance Telecom and also keeping the DIG Santosh Rastogi out of the investigation of 2G case a decision which was rectified on the apex court's intervention.
"Last night, I came across very disturbing and explosive material. The entry register of director's residence," Bhushan said.
Bhushan was representing CPIL, one of the PIL petitioners on whose plea 122 licences for 2G spectrum were cancelled by the apex court.
The apex court stopped the NGO's counsel from reading out his note on the issue after CBI counsel raised objections to making the content of the register public in open court and agreed to hear it on Thursday.
Senior advocate K K Venugopal, appearing for CBI, asked the bench to pass an order that all material be placed before the court in a sealed envelope.
Noted lawyer senior advocate Ram Jethmalani, who was appearing for DMK MP Kanimozhi, one of the accused in the scam, came to the defence of CBI director by saying that "he is performing his duty well but all kinds of allegations are being levelled." Sinha deputed senior advocate Vikas Singh, who said allegations are being made and it appears that attempts are being made to destroy CBI as an institution.
dna has access to the visitors' diary at 2, Janpath. Two officials Tony Jesudasan and AN Sethuraman (whose names are mentioned incompletely in the diary like Tony, Toni, ....., Setu Raman and Toni+Setu) had visited Sinha's house individually and also some time together almost every week between May 2013 and August 2014 and the cars they used are registered in the name of ADAG.
The frequency of their visits increased this year when Sinha moved a proposal to re-investigate the case against Reliance Telecom and Swan Telecom on grounds that some new facts have come to light.
As per details recorded in the register, the two ADAG officials made the visit in 10 different cars and a random check of four cars revealed that they have been registered in the name of Reliance ADA Group.
For example, Setu had visited in a car – DL4C-NE-7809 -- registered in the name of Reliance Infrastructure Limited, 27-BK Road, Delhi. Similarly, another car in which Tony or Toni frequently came to visit Sinha –DL-2CQ-5868 -- is also registered with Reliance ADA Group, 27-BK Road, New Delhi. The duo also came in some other cars --DL4C-AN-4131 and DL-1CP-6732 -- both registered with Reliance ADA Group, BK Road, New Delhi.