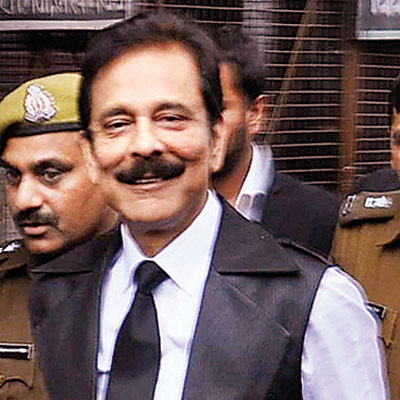 Sahara Group chairman Subrata Roy finally managed to work things his way and wriggle out of a tough situation by escaping the disgrace of being jailed on Friday.
The Lucknow police arrested Roy on Friday morning on a non-bailable warrant issued by the Supreme Court (SC) for allegedly defrauding investors to the tune of about Rs 24,000 crore.
The Sahara Group says its liability is just about Rs 2,000 crore and that SEBI's accusations are highly miscalculated.
'Saharashri', as Roy is addressed by his employees, was produced before Chief Judicial Magistrate Anand Kumar who remanded him in police custody till March 4 – the date Roy is to be produced in the SC.
The order saved the day for Roy as he could have been sent to jail if remanded in judicial custody. The police can now decide whether to keep him at a police facility or let him stay at Sahara City – as Roy wishes – under police vigil. Later, it turned out Roy will be lodged in the government guest house -- Kukrail Picnic Spot -- situated about 15km from the city.
Though Sahara insisted Roy had "surrendered", he was actually arrested by the Lucknow police.
Roy's counsel Ram Jethmalani appeared in the apex court and apprised the judges that he had "surrendered" before the Lucknow police, and that he would appear before the court on March 4 as directed.
He also requested the court's permission to allow Roy to remain at his residence in Lucknow till then. However, the judges said the matter would be heard only on the appointed date.
Roy's arrest came after a whole day of drama on Thursday, with the Lucknow police putting up a facade of trying to arrest Roy. However, things changed after a Delhi police team arrived here on Thursday evening, and there was the impending prospect of Roy being arrested and taken to Delhi where he would have certainly been jailed till March 4.
While just a handful of policemen had gone for the search and arrest operation to 'Sahara Shahar' on Thursday, an impressive battalion of men in uniform, including senior police officers, were at Roy's doorstep around 10 am on Friday.
Soon afterwards, Roy was arrested from his palatial residence.
In a statement to the media just before his arrest, Roy said he was not absconding. He said that on Thursday evening, too, when the police raided Sahara City, he had gone out to consult doctors about his 92-year-old mother's condition.
"A lot of people advised me to get admitted in some hospital as it is the general practice to avoid courts on medical grounds. However, I hate to do such drama," he stated.
At a media briefing in Delhi, his son Seemanto Roy also said: "Saharashri is a law-abiding citizen. He will never do anything against the law." He said Roy had "willfully submitted" to the Lucknow police.
Roy, who was to appear at the CJM court at 3 pm, finally arrived after a two-and-a-half hour delay, fuelling speculations that he was still trying to look for ways to circumvent the law. However, on being produced, he said "though I would like to stay at home, I will abide by any order of the court". He was finally remanded in police custody till March 4.