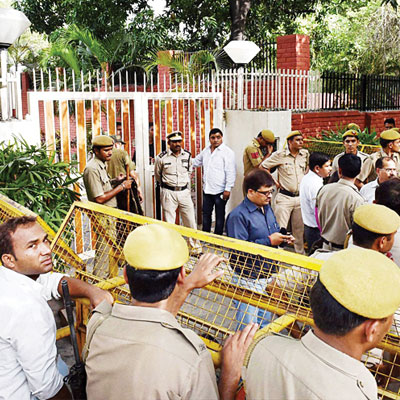 The controversy over Delhi University's Four Year Undergraduate Programme (FYUP) landed in courts on Tuesday, with the country's apex court asking the University teachers' body to approach the Delhi High Court instead. The matter is likely to be taken up by the Delhi High Court today.
Aditya Narayan Misra, former president of Delhi University Teachers' Association (DUTA), had approached the Supreme Court challenging the University Grants Commission's (UGC) "illegal, arbitrary and whimsical" order to scrap the four-year programme and replace it with the earlier three-year programme.
Misra, a professor in DU's Aurobindo College and a representative of DU's Executive Council, said that UGC has only recommendatory and advisory functions under the UGC Act for the improvement of university education. The UGC actions reflect "political vendetta and fighting between the authorities of DU, and the Commission is acting at the instance of the Central government".
He further said that the FYUP is actually a misnomer and that DU has continued to offer the bachelor degree with multiple exit options to students after three years. "It is only in the context of bachelor with honours degree that the DU has introduced FYUP," the plea said.
A vacation bench of justices Vikramajit Sen and SK Singh refused that there was urgency in the matter and said that the, "High court should consider the plea. In case it comes to a conclusion not to hear, then you come here".
Meanwhile, another similar petition has been filed in the high court seeking an order to uphold the UGC's order. The counsel in both the petitions are likely to seek an immediate hearing on Wednesday.