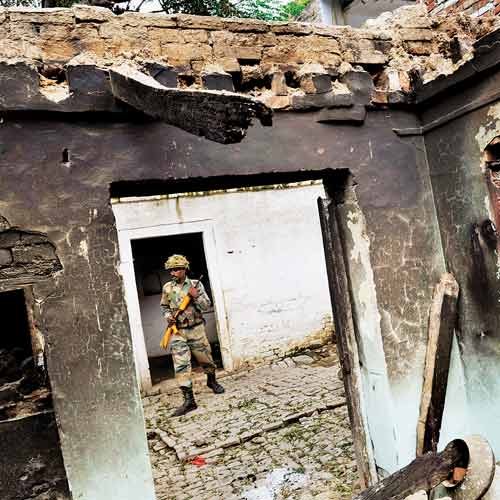 The Supreme Court on Wednesday took a strong and stern view of the lapses in the sharing of intelligence inputs between the state and the central government over the mishandling of the riots in Muzaffarnagar.
Appearing before the media after the apex court's stricture on the matter, lawyer Santosh Tripathi said, "The court tried to indicate that the state government and the central government have been guilty of lapses. It stated that the state government and intelligence agencies were not co-coordinating together. Also, it said that the central government had failed to give the state government concrete inputs."
"The court said the state government should pay Rs 5 lakhs in addition to the compensation which had already been given to the victims already," Tripathi added.
The Supreme Court also raised questions on police sensitization.
'The court has shown disagreement over the excuses given by the police that it was completely unacceptable that the police was not able to arrest accused people as human chains were formed and that prevented them from conducting arrests. It asked the police not to come under the influence of caste, creed or religion by making arrests," Tripathi said.
On being asked whether the court found this riot as politically motivated, Tripathi added, "The court stated that there are groups which are blaming each other, but court was unhappy on the part of state government for not showing sincerity over arresting the accused rioters. He stated that Court indicated it was not appraised of the fact that whether any information of possible riots taking place in that area was ever given by the central government to the state government."
Another important fact of the litigation that came up today as said by Tripathi was that " the court has opened the option that if any person is aggrieved thereafter the disposal of this petition, then he can file a application before the court".
The riots flared up in Muzaffarnagar in September, in the aftermath of the killing of two Jats and a Muslim. Incendiary speeches by politicians and religious leaders triggered a wave of communal violence in several villages that continued for days.
The petitions alleged that the state government had failed to check the riots and was trying to protect rioters. They also alleged that the state had failed to conduct a fair probe.
The Supreme Court's ruling comes in the middle of a charged campaign for next month's national election.