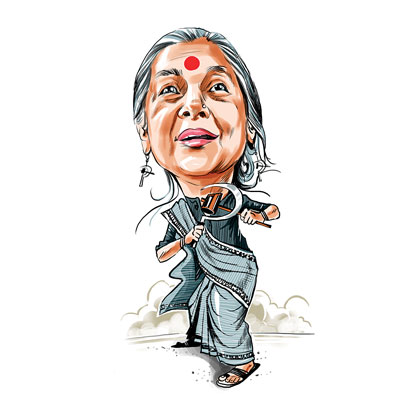 This former Parliamentarian from Kanpur sees the echo of the vanishing textile mills of Mumbai when she sees the crumbling jute industry of Barrackpore in West Bengal. Both are giving way to a source of new wealth in India.
"I have seen it happen in Mumbai — how the living quarters of mill workers of Mumbai were brought down to make way for real estate barons," says Subhasini Ali, CPI(M) candidate for Barrackpore Parliamentary constituency. "The jute mills are closing down one by one. Set up a long time ago over vast stretches, the owners are now thinking of shutting the jute mills to free the land to create townships instead. Being someone who have always fought for workers' rights, I can't let that happen."
She claimed that the use of jute bags to pack pulses and produce has suffered ever since plastic bags gained popularity. "It was the Left that had been demanding reservation for jute bags and even fought for it in the Parliament," says Subhasini.
Once married to a maverick filmmaker Muzaffar Ali, and occasionally flirting with Bollywood, sometime as a costume designer and sometimes as an actor, Subhasini arrived into Left politics through trade union movements and was elected to the Lok Sabha in 1989 from Kanpur. That was the only time she won the election even though she has contested from Kanpur several times.
Subhasini feels she belongs to every part of the country, so the tag of being an 'outsider' doesn't stick. "It's not whether you live in Bengal or elsewhere. It's about your commitment," she says. "It could be that even if a local wins, the people may never see him or her after the election. Or, you might land up from elsewhere, but still make the place your home and work for the people," she said.
Is her inability to converse in Bengali a handicap?
"I don't pretend I know the language, and people are happy when I speak in Hindi," she says, candidly. "This is absolutely normal. My old city of Kanpur had voted a Bengali MP for 20 years (SM Banerjee from 1957-77)."
Barrackpore will vote in the last phase, on May 12. Incidentally, Subhasini's main rival in Barrackpore is a non-Bengali. Sitting MP Dinesh Trivedi of the Trinamool Congress had a brief stint as railway minister in the outgoing UPA-II government before he was made to resign by his own party chief Mamata Banerjee in March 2012. Trivedi is a Gujarati brought up in Bengal, where he started his air freight company.
It's Trivedi's performance as the railway minister that Subhasini has been highlighting in her campaign. As the railway minister, Trivedi had promised to turn the Kanchrapara rail workshop into a world-class engineering loco workshop and to extend the Kolkata Metro rail service from Noapara to Barrackpore. "Forget about the Metro, even the bogies of the passenger trains running through Barrackpore are old and rickety. Work for the Kanchrapara project hasn't progressed either," she says.
Subhasini has a remote connection to Bengal connection, which her party is eager to spread word of despite her reluctance to do so. She is the daughter of Colonel Prem Sehgal and Captain Lakshmi of the Indian National Army, the outfit that Netaji Subhas Chandra Bose set up to liberate India from the British. Netaji is an icon, and his death, rather 'disappearance,' remains a touchy issue in Bengal.
"I don't claim any stake on Netaji's legacy. My mother, captain Lakshmi Sehgal, was also a CPI (M) member and I am not going to betray her legacy," says Subhasini. "If Sugata Bose (Netaji's grand nephew, and Trinamool candidate from Jadavpur) is claiming a stake on Netaji's legacy, it's his choice but I can't in my wildest dream see Netaji, if he was alive, becoming a Trinamool member."