Students from N-E ask for action against cops who handled the case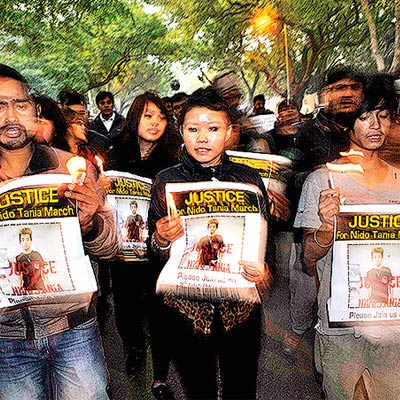 Two days after the murder of Arunachal Pradesh student Nido Taniam in South Delhi's Lajpat Nagar area, Delhi Police are yet to arrest the culprit. An FIR against unknown persons has been registered at Lajpat Nagar police station. Police sources said they are currently interrogating three people including the shopkeeper who had thrashed the teenager.
While the preliminary post-mortem conducted at AIIMS will be available by Monday, a detailed viscera forensic report being conducted CBI forensics laboratory will take a week to be available to the police. An FIR has been registered against unknown persons under section 302 of the Indian Penal Code and section 3 of the SC/ST Prevention of Atrocities Act.
Significantly Robin Hibu, joint commissioner of police belonging to Arunachal Pradesh has been entrusted to supervise the case. He assured the protesters that he will ensure speedy trial in the case.
Nido Taniam's case is not an isolated one of hate crimes against the north eastern students in India. "Why is it that, time and again we need to prove that we are Indians? Having Mongolian features does not makes me a Korean or Chinese," said Lipi, a first year student from Miranda House.
The community feels that incidences like these make them let down. "Our parents are worried back home. My mother advised me to stay indoor. But this is my country and why should I be made to feel unsafe," said Aido.
The student unions of North-East have been demanding punishment for the killers of Nido Taniam and suspension of police officers who left Nido to be beaten by the accused. The student bodies also plan to meet prime minister Manmohan Singh and home minister Sushilkumar Shinde to expedite the process of investigation.