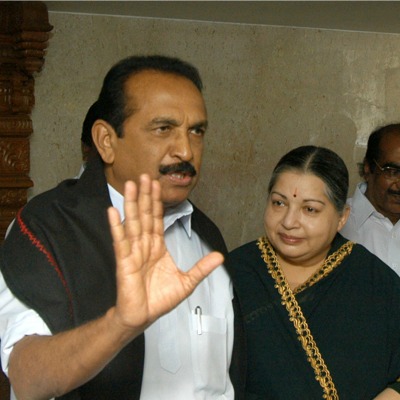 Even as Narendra Modi's invitation to Sri Lankan President Mahinda Rajapaksa upsets J Jayalalithaa and Vaiko, Rajapaksa goes one step further and and invited Sri Lanka's Tamil dominated Northern province Chief Minister CV Wigneswaran.
Wigneswaran is the first ever Tamil chief minister of the Northern province which was mainly controlled by the LTTE until it was wiped out in 2009.
Tamil Nadu Chief Minister J Jayalalithaa was among the first to come out against this move by saying, "We had hoped the new government to be formed at the Centre would be sympathetic to the cause of Tamils and friendly to Tamil Nadu. However, even before the new prime minister and the new government assume office and begin functioning, this unfortunate move of inviting the Sri Lankan president has deeply upset the people of Tamil Nadu and wounded their sentiments all over again. This is tantamount to rubbing salt into the wounds of the already deeply injured Tamil psyche."
"It is with a deep sense of anguish that we point this out to the new government to be formed at the Centre. Particularly, with regard to the relationship of the new central government with the government of Tamil Nadu, it would have been better if this ill-advised move had been avoided"
This move was severely condemned by MDMK (a member of the NDA) chief Vaiko as he said, "I met Rajnath ji today and told him that participation of Mahinda Rajapakse, the butcher of Tamils, will be the saddest day for Tamils all over world in the swearing-in ceremony of Modi and requested him to avoid him presence in it."
This reaction by Tamil leaders in the country is not surprising as Jayalalithaa herself has always had a strong stance regarding the war crimes in Sri Lanka allegedly conducted under President Rajapaksa's rule. The UPA government having DMK as an ally did not a leeway to take strategic decisions on Sri Lanka. The Northern province of Sri Lanka being dominated by Tamils and having a history of terrorist activities has called for this acidic reponse from Tamil leaders who have constantly insisted that the Indian government should take a strong stance against Sri Lanka.