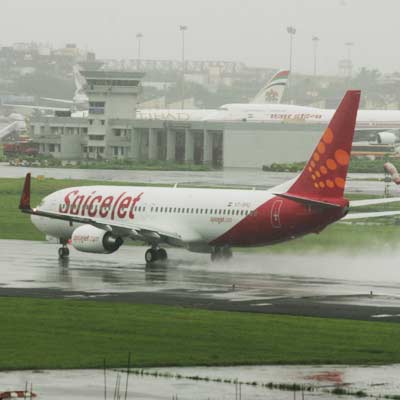 The Re 1 airfare discounts are back on domestic travelling as low cost carrier Spicejet airline, on Tuesday announced a ' limited seat offer'. However, the statutory taxes and fees are to be borne by passengers, the airline stated in a statement.
The Re 1 airfare trend was initiated by Capt GR Gopinath promoted Air Deccan, resulting in aviation revolution in the country. The cheap airfares made air travelling accessible to the middle class, who so far shied away due to exorbitant high airfares earlier.
A SpiceJet airline spokesperson said that the offer is valid only on bookings made between April 1- 3 for travelling during the period between July 1, 2014 to March 28, 2015. The offer is valid on the new sector network announced by the airline. The airline spokesperson however, refused to divulge out the number of seats available under this offer.
"These fares will allow families to plan their vacations and weekend trips at costs that lower than train fares, now that the pressure of March school exams is finally over. But they need to move fast as seats are limited," said Kaneswaran Avili, chief commercial officer, SpiceJet Ltd, who assumed his role as CCO of SpiceJet on Tuesday.

Since last over three months, the domestic airlines in India have been trying to undo each other in order to fill their seats during the off season which lasts till April and also as a pre curser to entry of Air Asia.
Aviation industry insider state that this eventually lead to heavy strain on Air Deccan's financial health. Liquor baron Vijaya Mallaya led Kingfisher airlines which took over Air Deccan later, too is believed to have made a hole in his finances, due to the debt it brought to the books.
Sharat Dhall, President, of travel portal yatra.com said, "This is an attempt to target leisure bookers with extremely attractive advance booking fares, a tactic that has been successfully used by LCCs across the world. SpiceJet is looking to pick up a significant share of these forward bookings, which could also insulate them from the threat of higher competitive activity that is expected later in the year. The sale has been extremely well received by travellers and within hours of the sale announcement, we are already seeing bookings that are four times the normal. We envisage that other airlines will follow suit pretty soon."