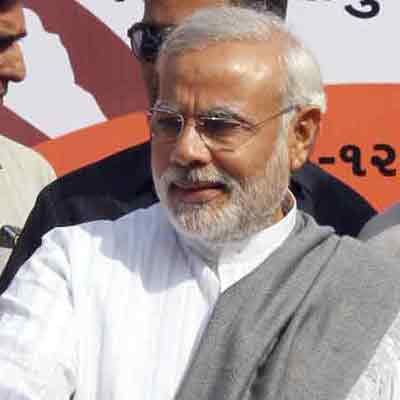 Narendra Modi today launched a scathing attack against SP, BSP and Congress, saying they were misleading the people under the veil of secularism to hide their failures.
"Though heat of elections is yet to be felt, there is a wave in favour of BJP due to which "sabka vinash" (rout of SP, BSP and Congress) is certain....For them secularism is all about vote bank to mislead the people," the BJP's Prime Ministerial candidate told a massive rally here.
"They are misleading the people by wearing the veil of secularism to conceal their failures," the Gujarat Chief Minister said.
Hitting out at the SP government on the issue of communal violence, Modi asked SP chief Mulayam Singh Yadav to explain as to why so many riots had taken place in Uttar Pradesh.
"In the past one year of your son's (Akhilesh's) rule, more than 150 riots have taken place in UP, while there was not even a single riot in Gujarat in the last 10 years. Not even a curfew was clamped there. Don't compare Gujarat with UP on development," he said.